It's April 13th… Elite teams from Pennsylvania and New Jersey have gathered at Montclair State University for an annual AAU warmup event called the Playaz Spring Fling.
Jabri Abdur-Rahim, a 6-foot-7 guard who attends Blair Academy in New Jersey, is not hard to spot. He is an elite talent displaying athleticism, a high IQ and playmaking skills. Abdur-Rahim is a force to be reckoned with for the Nike sponsored team Playaz Club (NJ).
After an impressive performance on Day One at the event, I caught up with Abdur-Rahim. When asking him what his biggest motivator on the court is, he replied:
"Probably just seeing my dad, and how he did things, and wanting to follow in his footsteps, and also my love for the game, I love playing a lot, so that definitely motivates me to keep going and keep getting better."
Photo: Kyle Terada-USA TODAY Sports
Jabri's father is none other than Shareef Abdur-Rahim, a 13-year pro in the NBA. Abdur-Rahim was a member of the 1996 NBA Draft class, which is arguably one of the best draft classes of all-time. He was selected No. 3 overall.
Shareef is often remembered for his seasons with the Vancouver Grizzlies and Atlanta Hawks. On Vancouver, he was named to the NBA All-Rookie Team in 1997 and in Atlanta he was an All-Star in 2002. Abdur-Rahim currently serves as the President of the NBA G-League.
"As far as the non-basketball stuff, he just taught me how to be a professional," Jabri said about his father's guidance. "How to carry myself off the court and know that some people look at me for certain things, so I know that I have to carry myself [well] and set an example for the younger generation."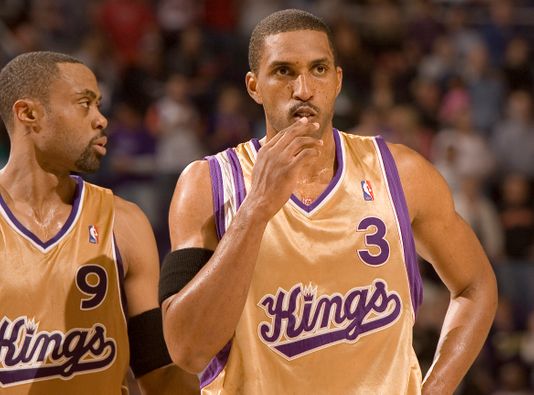 Photo: Ross D. Franklin, The Arizona Republic
As evidenced over the last few decades, basketball in the Garden State is second to none. You will always find players that are tough and ready for war on the hardwood.
"It's much different from California (Jabri's birthplace). It's more tough, it's grittier, just a lot harder style of play," Abdur Rahim said about the culture. "It's definitely had getting used to, for me, but I think I'm doing alright."
Jabri began his high school career at Seton Hall Prep in West Orange (NJ). As a freshman, he averaged 12 points and 4.5 assists. His sophomore year, he increased his output to 17.7 points and 9.2 rebounds per game.
This past season, as a junior, Abdur-Rahim transferred to Blair Academy, a prep school in Blairstown (NJ). Blair is known for its big-time schedule and producing pros such as Luol Deng and Charlie Villanueva, who played at Duke and Connecticut respectively, before long careers in the NBA.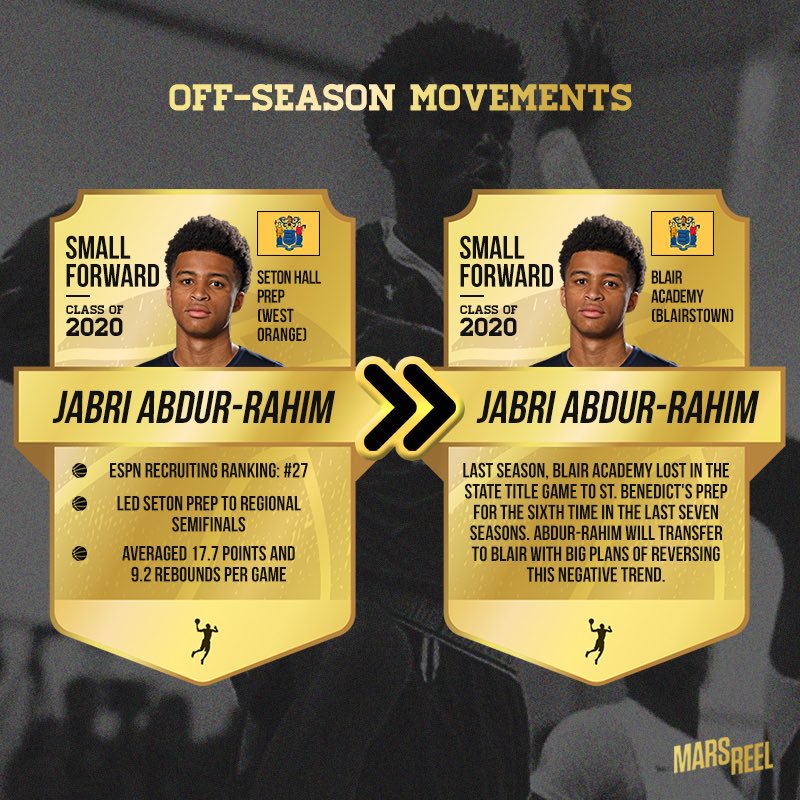 "It was good, I just definitely needed something a little more challenging for myself," Abdur-Rahim said about the change. "My family and I thought it would be better for me to challenge myself so I could be more successful in the future. But all love to Seton Hall Prep, I had a great time, I just had to move on."
He led the Bucs to a 22-4 record, a New Jersey Prep A State championship, and averaged 15.4 points and 7.1 rebounds per game. With that performance, he earned honors such as First Team All-State and also the prestigious Gatorade Player of the Year for the state of New Jersey.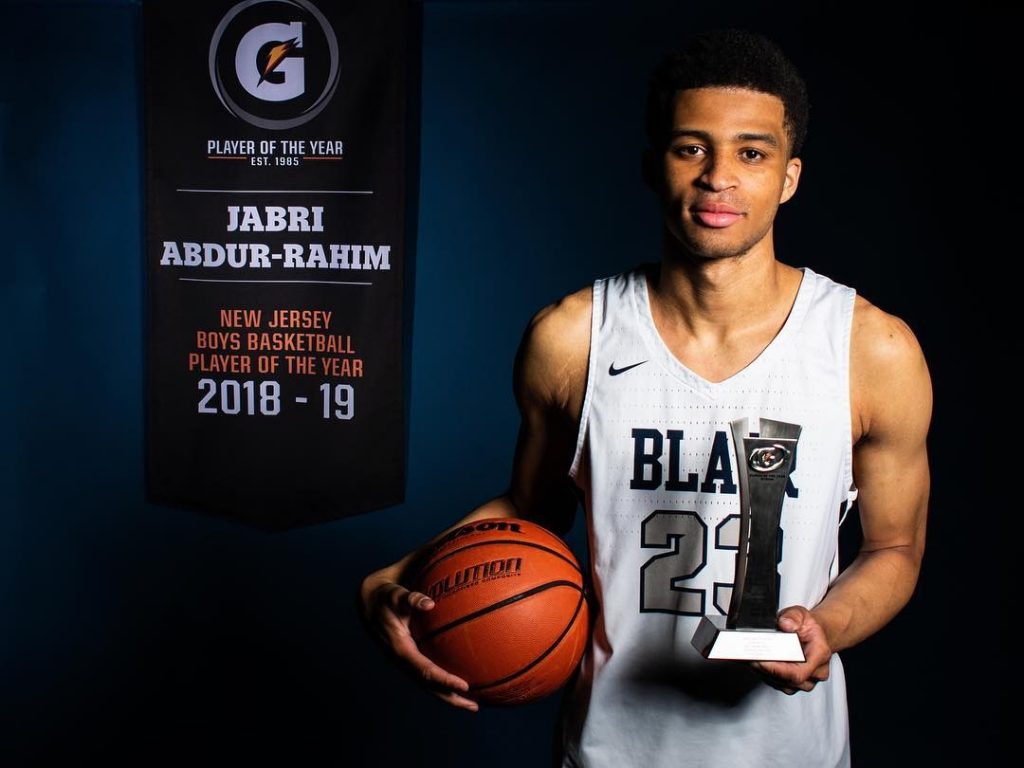 Photo: Blair Athletics IG (@blair_athletics)
"We won our championship, that was our main goal," Abdur-Rahim said. "That's what we set out to do, and we did it, so I couldn't be happier. We're the first team in school history to win the league championship and the state championship, so you know, as far as that goes, that's as best as we can do, I'm completely satisfied."
When asked about his goals on the AAU circuit, Abdur-Rahim replied: "To win Peach Jam, to get better as a player and as a team. That's the biggest thing, getting better and going down and playing the best competition, and winning at the highest level, that's my main goal."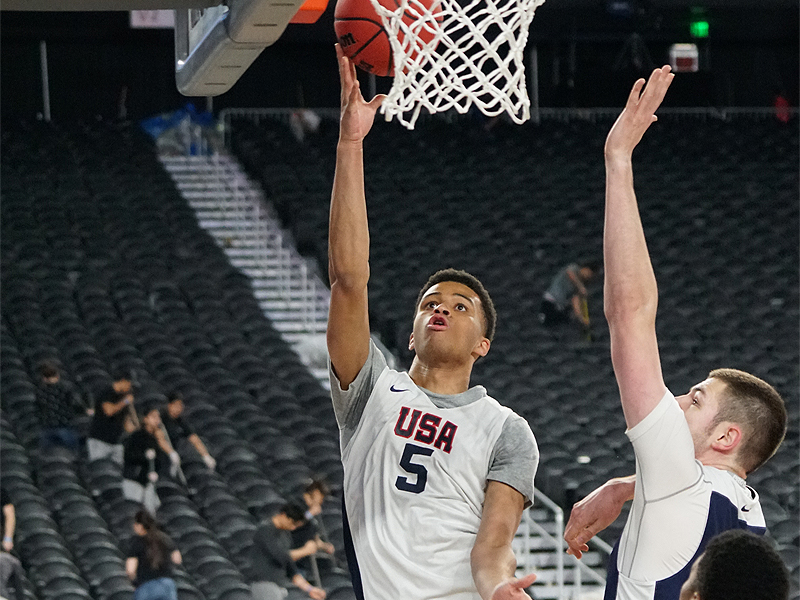 Although Jabri's squad (the New Jersey Playaz Club) had a disappointing start to the Nike EYBL with a 1-3 record in Atlanta, Abdur-Rahim was one of the bright spots. He averaged 28 points, 8 rebounds and 3.3 assists over the four games. The highlight of his weekend came on Saturday when he went for 41 points against the Texas Titans (TX) and 45 against the Mac Irvin Fire (IL).
As far as his recruitment, Abdur-Rahim holds offers from as many as 20 schools, such as Georgia, Michigan, Villanova, Arizona, UConn, Florida, Kansas, Illinois and Georgetown just to name a few.
"It's looking pretty good, everything's going well," Abdur-Rahim said about his recruitment. "I'm still wide-open right now, I'll probably make some cuts at the end of the summer. But as far as right now, I'm still wide-open. I'm listening to everybody."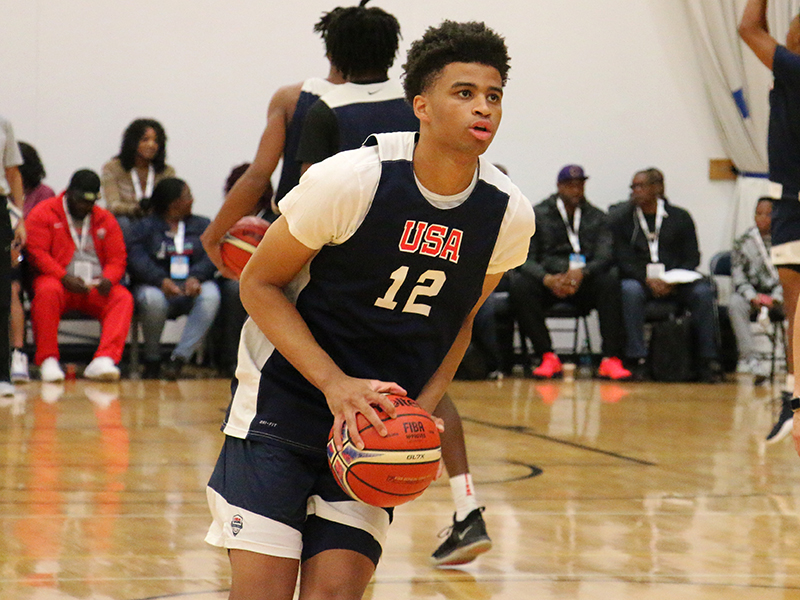 With Jabri's immense talent, there's no doubt that he has the potential to follow in his father's footsteps. However in the present, there's more work to be done and more goals to achieve.
"What's next in the future… Hopefully, I get to accomplish all my goals, play college, play in the NBA, that's the goal. So hopefully, I can accomplish those goals. I'm just going to keep working for it, and keep getting better."
"And hopefully, I get to reach my ultimate goal."
David Cordova is a contributor for Mars Reel based in New York City. You can follow his work @daves_joint