"I've grown up and been around a lot of high level players in high school, college and the NBA, and the guys who seem to make it are the ones who have discipline, that put the work in, and they're a good person."
Selected by Portland in the first round (11th pick overall) of the 2012 NBA Draft, power forward/center Meyers Leonard is hard to miss. It's not just that he's 7'1" and nearly always willing to pose for photos with fans when they ask. He's practically a team ambassador, shaking hands, smiling and joking with Blazers fans before games, and cheerfully representing his team, on and off the court.
Raised in the small, blue collar town of Robinson, Illinois, he and superstar Damian Lillard came into the NBA the same year and along with their head coach, Terry Stotts, have helped establish a special culture that permeates the organization from top to bottom.
"It's one of the most important and coolest things the team has done. We've established the way you're supposed to act and work and a level of professionalism. Guys are there early, they stay late, they're always on time, and that's big to me," says Leonard. "It's a constant level of professionalism that allows you to continue to improve and maintain a good reputation around the league."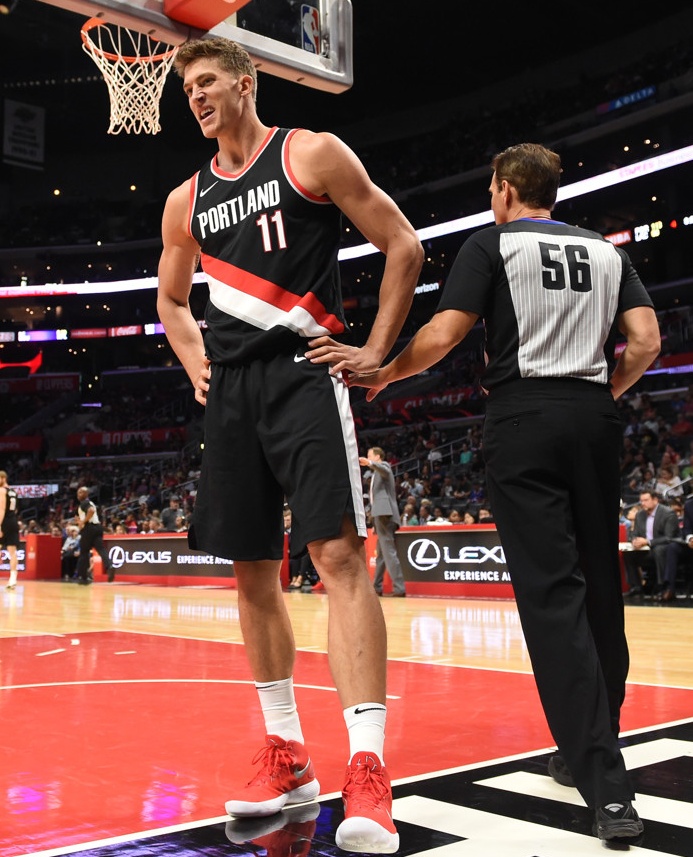 Photo: Chris Williams/Icon Sportswire)