R.J. Davis and Adrian Griffin Jr. are forming one of the most dynamic backcourts in the country. Davis is a junior and Griffin is a sophomore at Archbishop Stepinac in White Plains, New York. Under their guidance, Stepinac has won six of its last eight games after beginning the season with a 3-12 record.
Stepinac struggled early in the season while battling through injury. Griffin was sidelined for over a month and played in just four games in December before returning for this recent stretch.
With the return of Griffin, Stepinac is beginning to realize its potential. The combination of Griffin with Davis gives Stepinac perhaps the most deadly backcourt in the entire New York City area. Both standout guards have received their moments to shine over the last few weeks.
Davis got his moment on Jan. 29th in a road battle against Archbishop Molloy. Cincinnati head coach Mick Cronin made the trip to watch, and Davis did not disappoint. The 6-foot point guard posted 41 points, 11 rebounds and 7 assists in a 82-77 win over Molloy.
Griffin received the spotlight shortly afterwards. He exploded for 43 points, 14 rebounds and 7 assists on Feb. 6th against Monsignor Scanlan.
Stepinac posted a historic season last year. The team won 12 games to close the season and claimed the CHSAA Archdiocesan title, the Catholic city title and a state championship.
With the team now back at full health, Stepinac has aspirations of going on a similar run.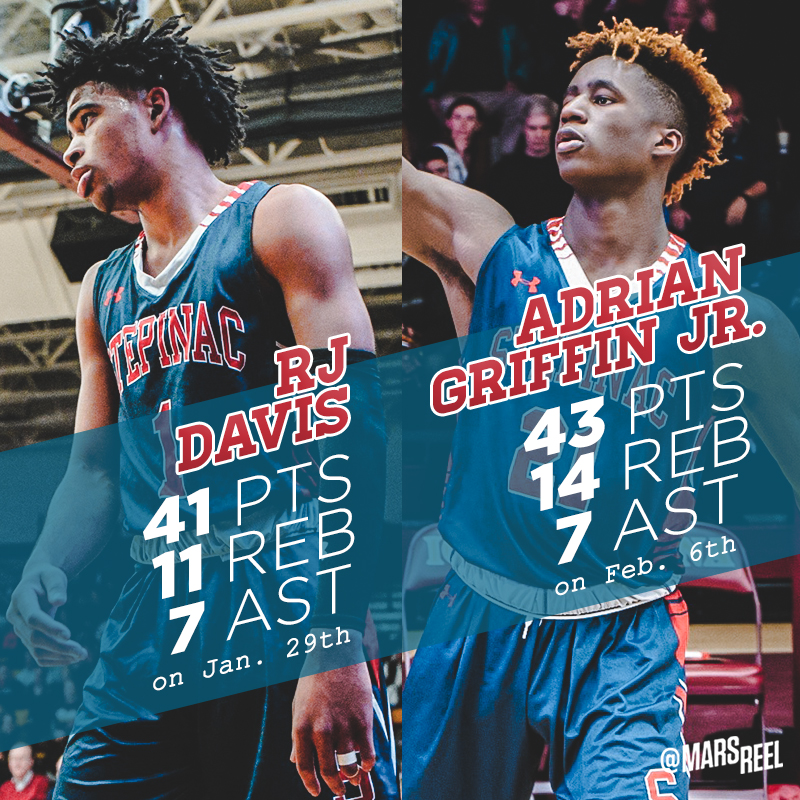 Photo: Graphic by Mars Reel | Photo by Hector Martinez, Moving Pictures
Davis and Griffin are also picking up some significant interest on the recruiting trail.
Davis is considered a 3-star prospect by 247Sports and checks in at No. 205 in the Class of 2020. He has offers from Cincinnati, George Washington, Illinois, Maryland, Seton Hall, St. John's, VCU and others.
Griffin comes from a prolific basketball family. Adrian is the youngest of three. His older brother, Alan, was the leader of last year's Stepinac squad. He's now a freshman at Illinois. His sister, Aubrey, is a McDonald's All-American who's signed to play at UConn next year.
And last but certainly not least, Adrian's father (Adrian Sr.) was a ten-year NBA veteran who played on the Boston Celtics, Dallas Mavericks, Houston Rockets, Chicago Bulls and Seattle SuperSonics. Adrian Sr. currently serves as a lead assistant coach for the Toronto Raptors.
The basketball genes certainly didn't skip Adrian Jr either. He is considered a 5-star prospect and checks in at No. 11 in the Class of 2021. He has offers from Illinois, Maryland, Pittsburgh, Seton Hall, St. John's, Wake Forest and plenty more.
Michael McLamb is the High School Hoops Editor at Mars Reel