The rise of Rancho Christian to national powerhouse status has been largely in part to the presence of the Mobley Brothers, Evan and Isaiah. But the team's success also would not be possible without the contributions of other notable players on the roster, most notably Dominick Harris.
The junior guard, and Gonzaga commit, joined the Eagles this season after transferring from Pacifica Christian High School in Orange County. This past June, he saw his first action with Rancho Christian at the Nike Tournament at Fairfax High School.
From the get-go, it was evident that Harris brought a new dimension to the Eagles. They were a talented squad a year ago, but they lacked a combo guard who could attack offensively and really create his own shot while being able to make plays for everyone else.
"It's just knowing the plays, getting the plays down. But everything else is just basketball," Harris said confidently at the time. "We got good athletes and good players, it's just playing basketball at that point."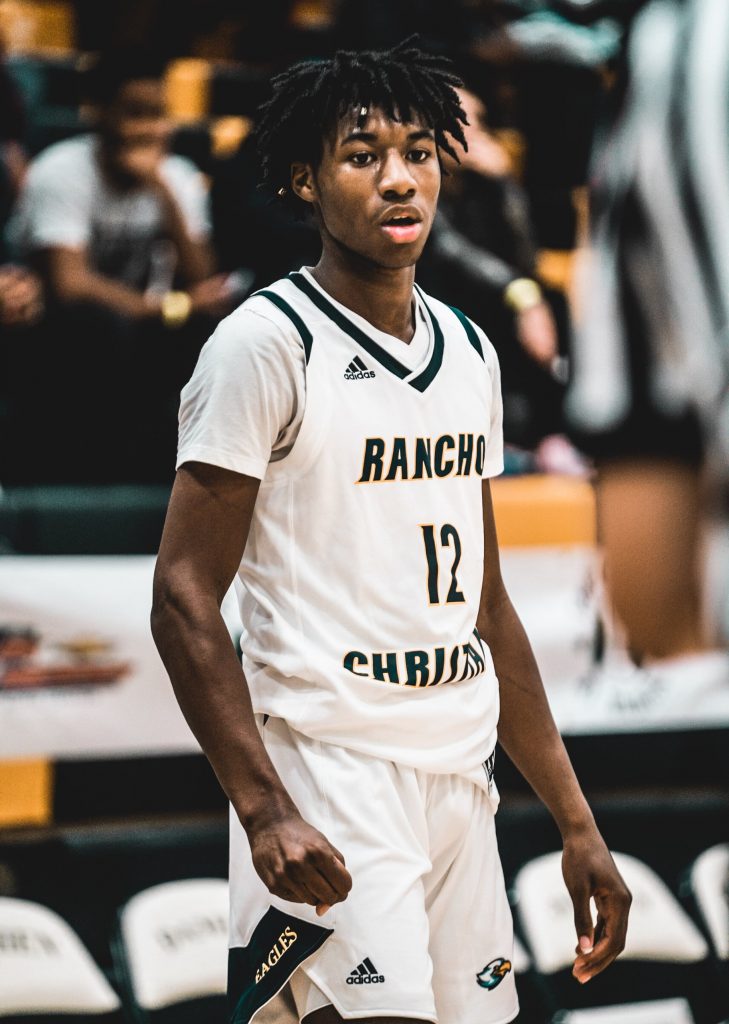 Flash forward to the present, and Harris has certainly added that extra element to Rancho Christian. His fingerprints were all over the Eagles big win over Sierra Canyon on Feb. 2 that decided the No.1 seed in the CIF Southern Section Open Division Playoffs. He scored a game-high 23 points, while hitting several clutch 3-pointers down the stretch as Rancho Christian finished the game on a 12-0 run.
Being a dangerous outside shooter is something that Harris prides himself on. It's one of the aspects of his game that he's worked hard to perfect.
"I've been working on my threes, I've been working on my game kind of heavy. I'm in the gym every day with my dad," Harris said. "I feel like, if you can't shoot you can't stay on the floor, so you got to be able to just knock it down when you need to."
Shooting from distance isn't his only strength. Harris is both relentless and fearless when it comes to attacking the rim. He is adept at getting that first step on his defender and getting all the way to basket to either finish or draw contact and get to the charity stripe.
And sometimes, like what happened last month at the Hoophall Classic, when he gets into the lane, he'll rise up and throw it down. In Rancho Christian's big win over Memphis East, Harris earned the top spot on ESPN's SportsCenter Top 10 plays when he dunked on James Wiseman, the No.1 player in the Class of 2019.
#1 on Sportscenter 🤩🙏🏾 pic.twitter.com/NTs6frcKit

— Dominick Harris (@DominickHarri2) January 12, 2019
Harris hopes to keep that part of his game strong as his shooting has become much more consistent.
"I've just been trying to put on some pounds and I've been trying to attack the rim whenever I get a chance to," Harris said. "I shoot so well now that I can fall in love with my three-pointer sometimes so I keep trying to attack the rim."
Harris still has one more year of high school basketball ahead of him, but he's already committed to Gonzaga and head coach Mark Few. The Bulldogs are one of the best college basketball teams in the nation this season, and Harris is looking forward to how he can contribute in 2020.
"It was the best fit for me," Harris said. "I like Coach Few and Coach Don [Daniels], what they have for me, and what their future looks like."
And as for Rancho Christian, the Eagles have their sights set on a possible state championship. Harris is ready to do whatever is necessary to give them a good chance at achieving that goal.
"I feel like I'm a dynamic guard. If coach tells me to get my teammates involved, I can do that," Harris said. "I can get a bucket too, I can penetrate, dish, and score as well. I can make my teammates better."
David Yapkowitz is a contributor for Mars Reel based in Southern California