The 2018-19 season was history-making for Raptors center Marc Gasol. In June he earned an NBA championship with Toronto, and in September he helped lead the Spanish national team to a FIBA world championship, earning his second World Cup title. He's just the second player in NBA history to achieve those two feats in a single season.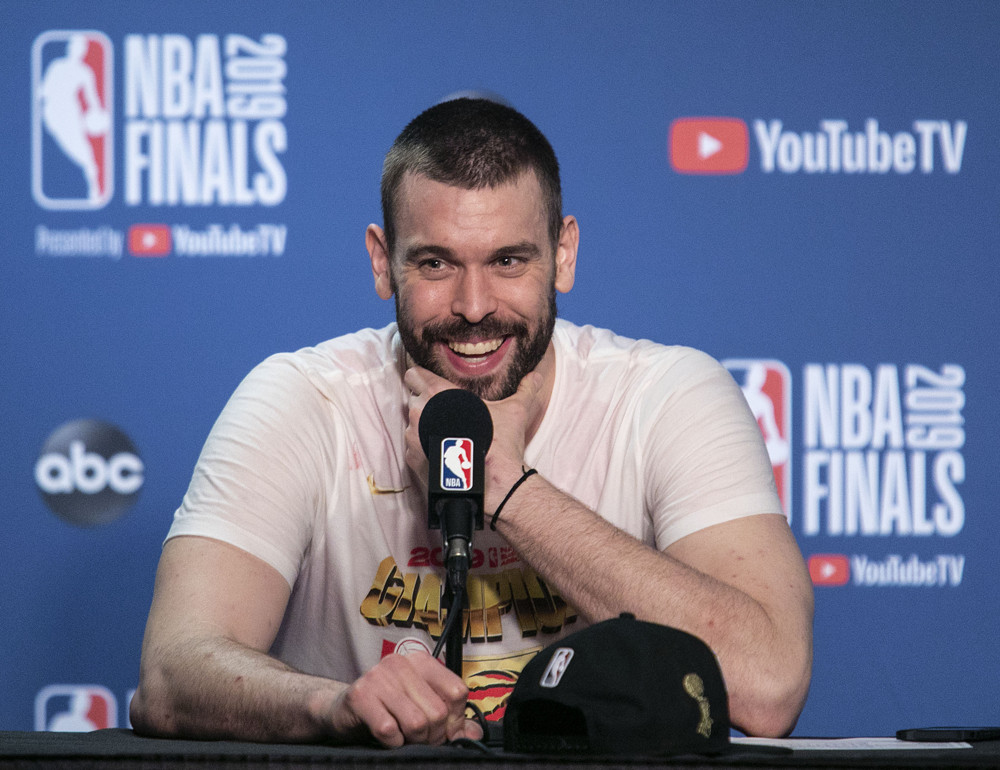 Photo: Prensa Internacional/Icon Sportswire
For a player who was picked 48th overall in the NBA draft back in 2007, Gasol has accomplished much more than he ever imagined – and he has cherished every moment of it. It's tough to get the 34-year-old Spaniard to talk about himself, so we'll briefly go down the list of his major accomplishments:
NBA Champion (2019)
NBA Defensive Player of the Year (2013)
Three-time NBA All-Star (2012, '15, '17)
Two Olympic silver medals for Spain (2008, '12)
Two World Cup Championships for Spain (2006 and '19)
The 7'1", 255 pound Gasol, whose brother is fellow NBA star Pau Gasol, is known for his tough defense against the biggest and strongest in the league. Until last season Gasol spent his entire career with the Memphis Grizzlies, who built their defense around him. But Gasol isn't one-dimensional; he's great on both ends of the floor.
After his February 2019 debut with the Raptors, head coach Nick Nurse and assistant Sergio Scariolo praised Gasol on how well the offense flowed with him, who possesses a scarily high basketball IQ. "He basically is a great passer, somebody who sees the next play a split-second before most of the opponents. And most of the teammates as well," said Scariolo, who also coaches the Spanish national team.
Gasol's playing philosophy is simple: Do whatever is needed.
"It depends on the game, and how the game is being played," he says. "I'm in a leadership role, a glue role, to be a spacer and reader on offense and a defensive anchor on the backside."
"My mindset is being able to adapt and do whatever the team needs [me] to do on any given night, and always put the team ahead of [myself]," he explains. Not surprisingly for this former defensive player of the year, he cites a basic defensive drill as one of his favorites.
Marc's recommended drills: