In his five-year NBA career, Julius Randle  — considered one of the best young power forwards in the league — has had some ups and downs.
As a rookie with the Los Angeles Lakers, he broke his leg in his first game and sat out the rest of the season. His second and third years in LA weren't particularly promising and fans expressed doubts about the player who was ranked the top power forward out of high school (Prestonwood Christian Academy) and who helped lead University of Kentucky to the NCAA Championship.
But in Randle's fourth season (2017-18), things changed. He put up career highs in points and his shooting was much more efficient.
This year he's even better. As a New Orleans Pelican (recruited by Anthony Davis), Randle's averaging the most minutes (29.5) and points (20.1) since turning pro.
So what happened? In the summer of 2017, Randle made changes to his training and diet. He shed fat and gained muscle working with Los Angeles-based trainer Amoila Cesar on weights and cardio. (We'll cover those details in another story).
Randle eliminated fried and fast foods and soda and lost 15-20 pounds, says his longtime basketball skills coach Tyler Relph. He also refocused his training with Relph, becoming more disciplined about the skills he needed to be a premier player in the league.
Every summer, the two pick two to three areas for Randle to work on. "This past summer I concentrated on movement, mobility, and getting in the best shape possible for training camp," says Randle, who wanted to play a big role for the Pelicans. "I worked on my threes, mid-range and post stuff."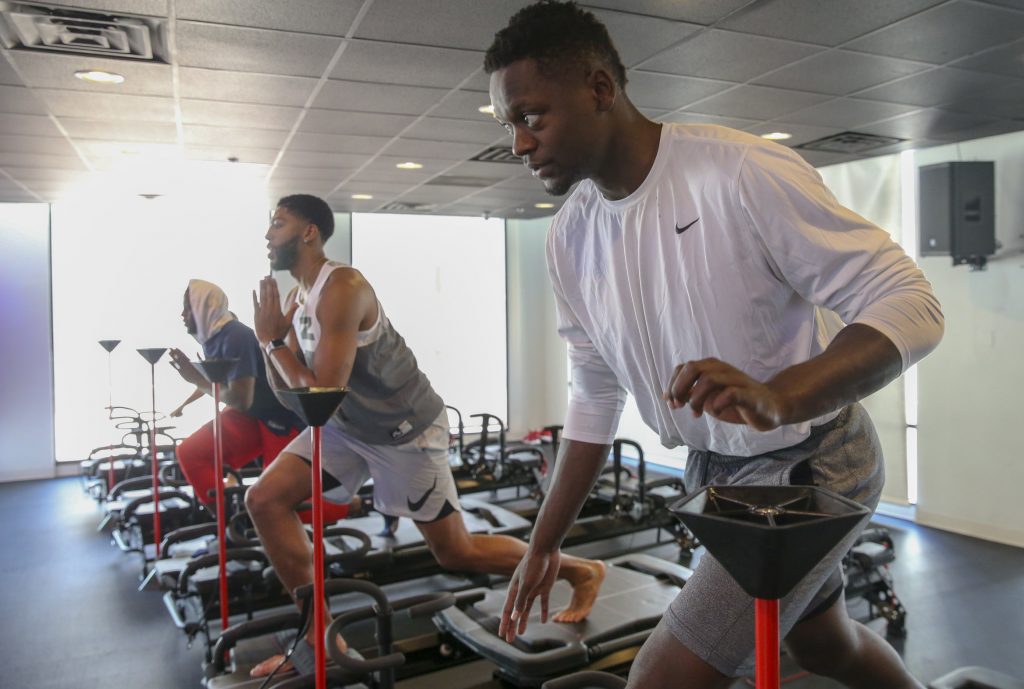 Photo: Courtesy of the New Orleans Pelicans
Below are several drills from Randle's summer workouts.
1. Spot shooting from midrange
How to do them: Go 10 for 12 from 7 spots on the floor.  You have three chances to go 10 for 12 before moving to the next spot. In this drill you're just inside the arc. Start at the short corner, then to a step below the free throw line (extended), then a step above the free throw line (extended), then to the free throw circle, then go to the opposite side of the floor, shooting from those same spots and ending at the short corner opposite where you started.