What if your father played in the NBA for 19 years and won two championships? And after that, took up coaching and became an assistant in the NBA?
Well, given those circumstances you might think that basketball would be an easy thing to pass down. It be like following in your dad's footsteps to run the family business.
But that's not exactly what happened with Jace Howard.
"Actually, when I was younger I wasn't too focused on the game," Howard said. "I was more into football and soccer."
It took a little longer for Jace to gravitate towards basketball, but he can remember the exact moment when it finally happened.
"I remember during the 2008 NBA Finals when the Celtics won, I watched that whole playoff run and fell in love with basketball after that," Howard said. "I remember watching Kevin Garnett and that is when the love started. I told my dad I wanted to play basketball, he just said okay. After that, I played for my first travel, spring league team in Houston."
If you haven't figured it out yet, Jace Howard is the son of Juwan Howard.
Howard was famously a member of the 1991 recruiting class at the University of Michigan dubbed as the 'Fab Five.' Howard, along with Jimmy King, Ray Jackson, Jalen Rose, and Chris Webber took the sports world by storm. The Fab Five brought a new sense of swagger, style, and talent to a national audience while leading the Wolverines to back-to-back appearances in the NCAA Championship game.
It was something that Jace would soon become familiar with.
"When I was younger I always knew about the Fab Five. And knew that they were a really good team before I was born," said Howard. "When I was younger I'd be with my dad and heard people shout FAB FIVE."
"I didn't really know the buzz around it. When the Fab Five documentary came out I watched it and saw what they were and how good they actually were. After that, I've been fascinated ever since."
Jace also has a younger brother, who is a star player in his own right. Jett, who is a freshman at University School, is one of the top prospects in the Class of 2022. So, safe to say, the pick-up games at the Howard residence would get pretty intense growing up.
"Jett and I are very competitive, and one-on-one usually ends in a fight," laughs Howard. "We get each other better when we play and we push each other in different ways because we are two different players. That helps us learn from each other."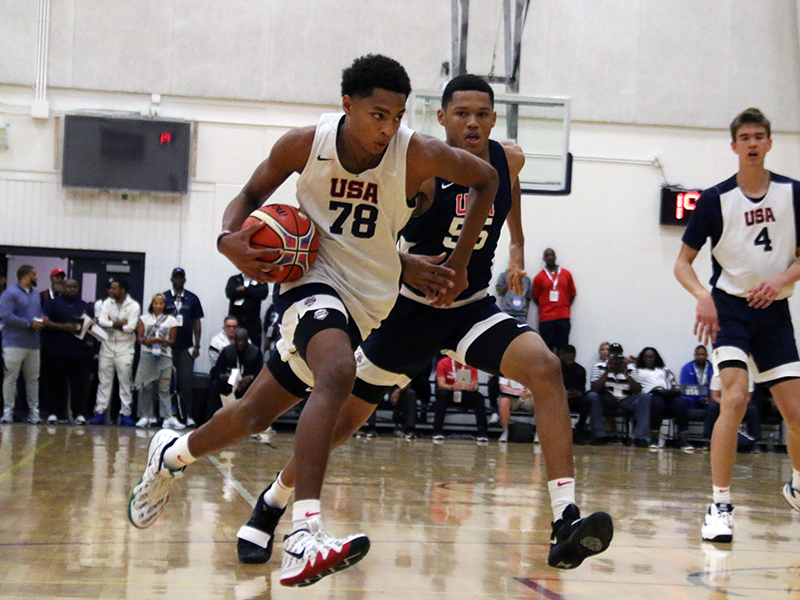 (Jace's younger brother Jett at the Team USA Training Camp in October 2018)
Jace recently finished his junior season at University School. He was a key factor in the Sharks run to a state title, scoring 17 points and pulling down 6 rebounds in the championship game against Andrew Jackson.
However, while Howard's junior campaign ended on a positive note, the season as a whole proved to be difficult. Jace missed a huge chunk of the year due to injury.
"I had a fracture in my tibia, it happened in the semi-final game of the Les Schwab tournament in Oregon," said Howard. "I thought it was just a bruise. It was bothering me when we came back after New Year's and started practicing. I got it checked out and the MRI revealed I had it."
It was a challenging road back to the court, but Howard's perseverance proved to be much needed for his team. With star player Vernon Carey Jr. (Duke commit) suffering an injury in the postseason, Howard's contributions were critical in filling the void.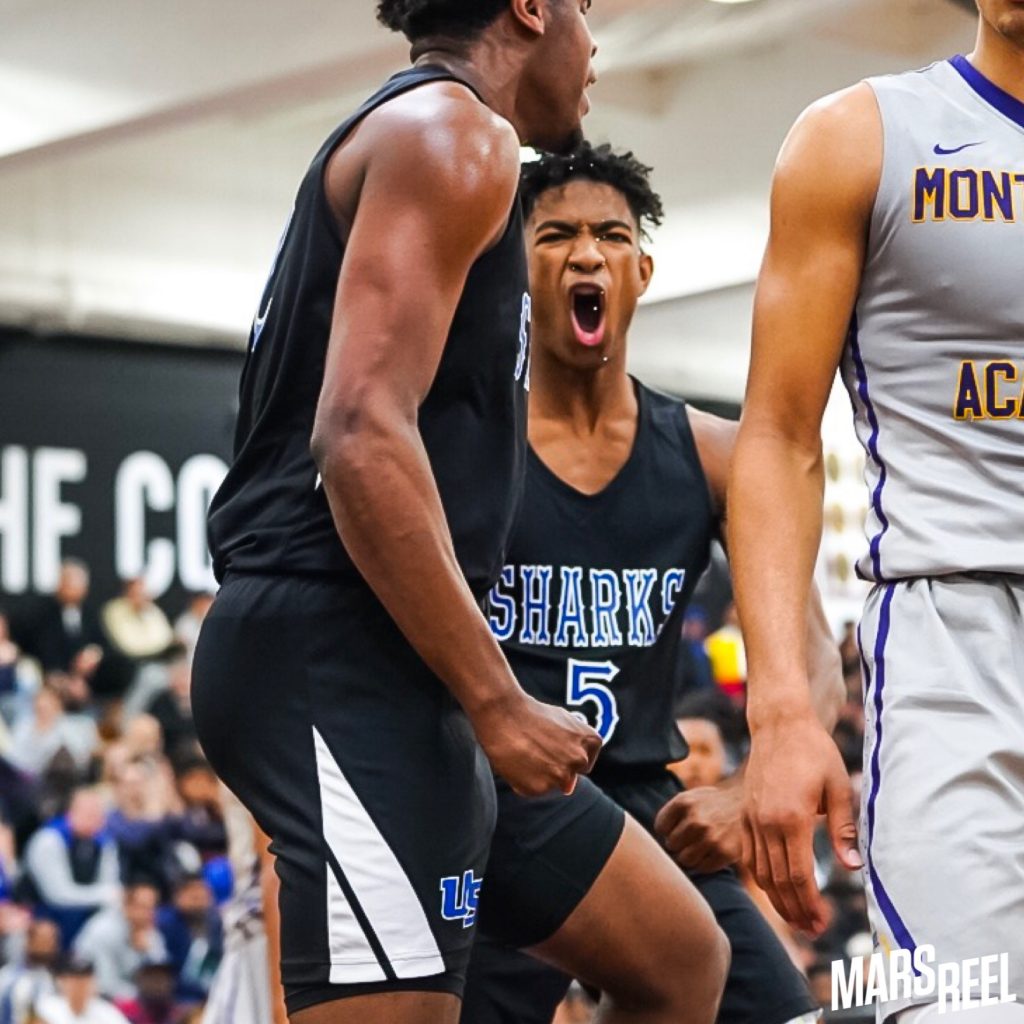 (Photo by Hector Martinez, Mars Reel)
Now with the high school season over, Howard is busy on the AAU circuit.
He began his AAU campaign with the Florida Vipers on the Under Armour Circuit. However, he recently moved to the Nike EYBL to run with the Mac Irvin Fire, where he quickly made himself at home.
@TheMacIrvinFire what we do pic.twitter.com/ajQlpK8wxM

— Jace Howard (@jaceh0ward) May 13, 2019
It's certainly a busy time for Howard, who is looking to improve his game before making a college decision. He currently holds offers from Florida Atlantic and San Diego State, while also drawing interest from Sienna, Mercer, Penn, College of Charleston, Iowa, and Texas. In addition, Howard hopes to take visits to Brown, Northern Illinois, and you guessed it… Michigan.
"I feel like my strength is my motor and defense, both of which I can control," said Howard. "On the offensive end, I feel like I can catch and shoot mid-range and three's while also driving to the basket and finishing. I'm trying to work on ball handling because I feel like once I master that I would be able to diversify my game so much more and be a very hard player to stop on the offensive end."
Could the young Howard learn anything from his dad?
"I always try to mimic his post moves that he used in his career, especially the hook shot," said Howard. "I always try to use the class that he had in the league as well."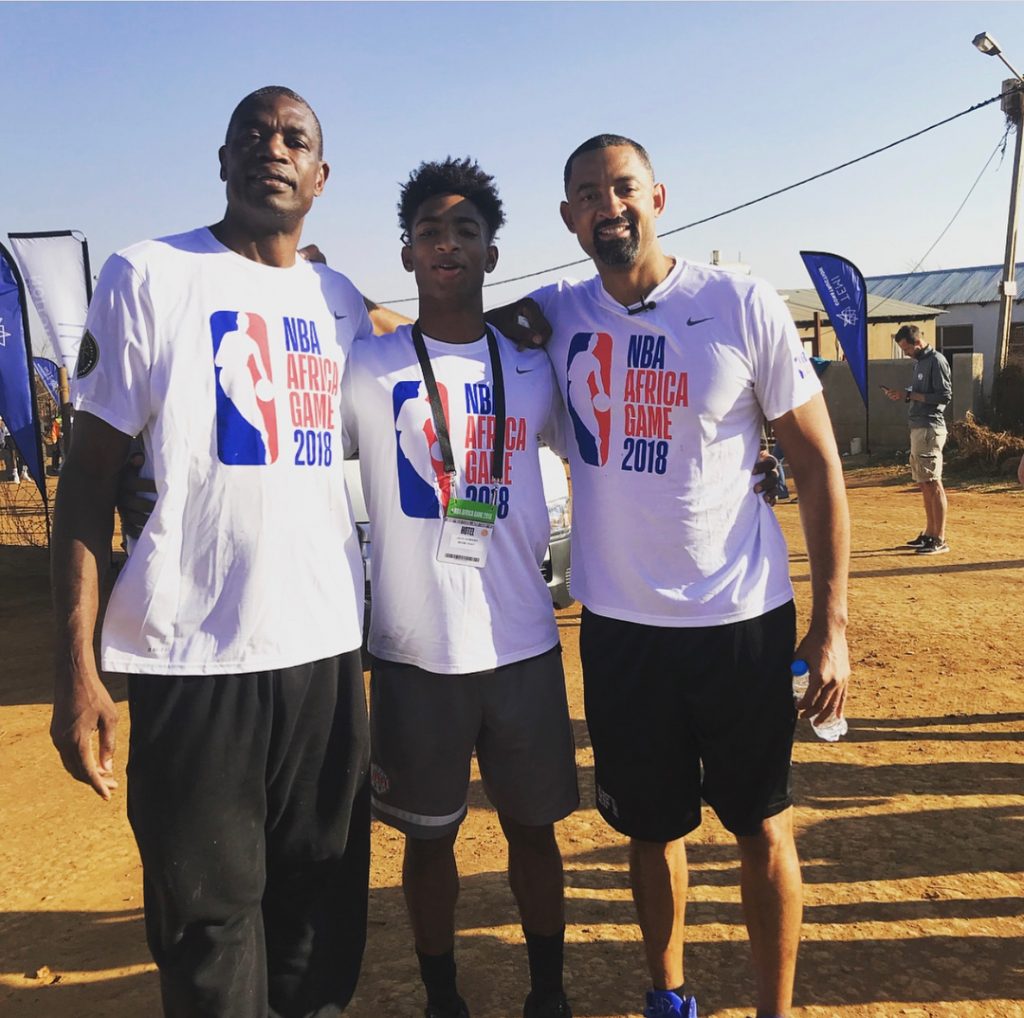 Photo: Jace Howard IG (@jaceh0ward)
"He always told me to have fun out there while I was playing, and never stop playing hard no matter what. I trust the advice he gives me on and off the floor. It has helped with my mindset, day in and day out of how I approach the game."
"Going into a big summer, that is exactly what I need."
Michael Costeines is a contributor for Mars Reel based in South Florida