On the surface, Jaden Springer might appear like your average 15-year old kid… And in a lot of ways– he is.
He does homework, he loves sports, and he might even play video games a little too much.
Before meeting at Rocky River High School for an interview, Jaden can be seen walking through the hall, phone in-hand, playing Fortnite– just like an ordinary teenager.
"I can't even explain it man. It's like when you start playing [Fortnite] you just get addicted to it," Jaden says with a smile as he puts down the phone and settles-in to talk at a nearby office.
As the two of us begin talking about life, basketball and everything in-between, nothing out-of-the-ordinary happens. Even as we discuss his remarkable basketball talent, he doesn't come across as anything but humble.
Instead of boasting about his tremendous athletic ability, smooth handles or knockdown jumper, Jaden prefers to mention other parts of his game.
"I'm a tough player. I can defend. I can rebound. I can do whatever you need me to do for the team."
And his love for playing defense…
"Not a lot of people like to play defense, but defense is fun to me… I don't want anybody to score on me. I feel like that makes me look bad."
Remaining humble is often difficult for players of Jaden's caliber. Especially when considering how he's already so talented, but still so young.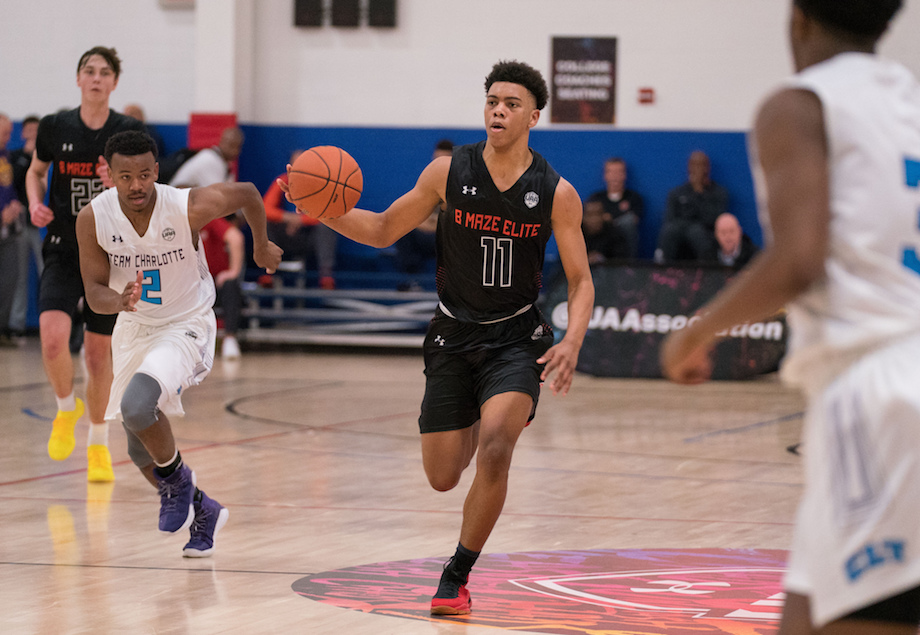 Photo: Kelly Kline/Under Armour
"He's completely unguardable," said Jaden's high school coach Jason Moseley. "He can score at all three levels. He can get to the rack, he's got a gread mid-range and his three is getting better… He can handle it and he's the most underrated passer in his class for sure."
His basketball trainer, Dom Bishop, also shared high praise.
"He's relentless. He attacks you all game long… I tell people this all around the country. If it's the last seconds, and I need someone to get me bucket. Jaden is my person," Bishop said.
With an ESPN national ranking of 16th in the class of 2020, Jaden is the latest basketball revelation from the state of North Carolina. He holds offers or interest from every high-major basketball program in the country while naming Maryland, NC State, Tennessee, UCLA and Wake Forest as the schools pursuing him the most.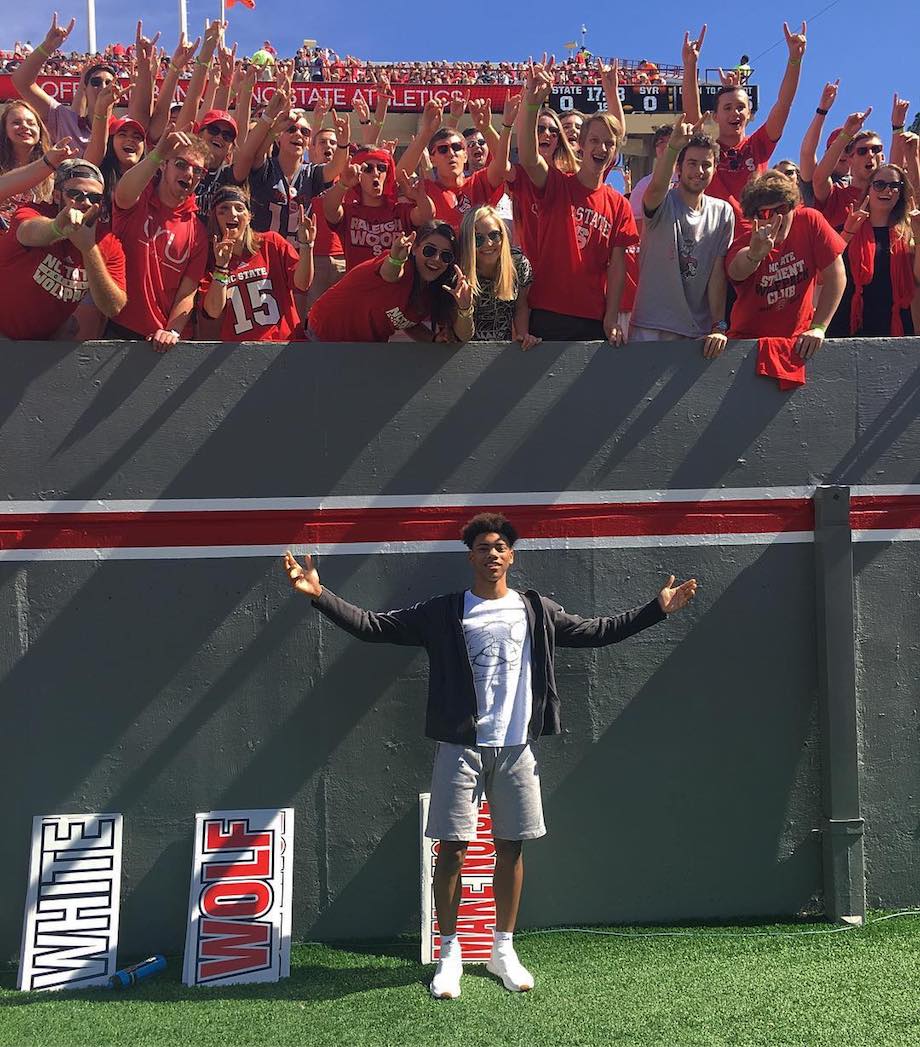 Photo: Courtesy of Jaden Springer
Still, despite all the attention, Jaden continues to remain grounded.
"He's a better person than a basketball player," Moseley said. "He's a great kid. He doesn't walk around the building looking for special attention or special treatment. One day, the principal asked him and another player to help do something and they instantly stopped and did it."
Jaden recently completed his sophomore season at Rocky River in the Charlotte suburb of Mint Hill. Although his team fell short in the state semifinals against Jamarius Burton (Wichita State signee) and the eventual state champions of Independence, Jaden led the Ravens to its best finish in program history.
"It was a fun year. We had a good run. The best run that Rocky River has ever had. Our team is close together. We all consider ourselves brothers," Jaden said.
Although Jaden and his brothers weren't able to win a state title this year, the season was quite an accomplishment for Rocky River. Before Jaden's freshman campaign, the team had compiled just one winning record in its previous 6-year tenure.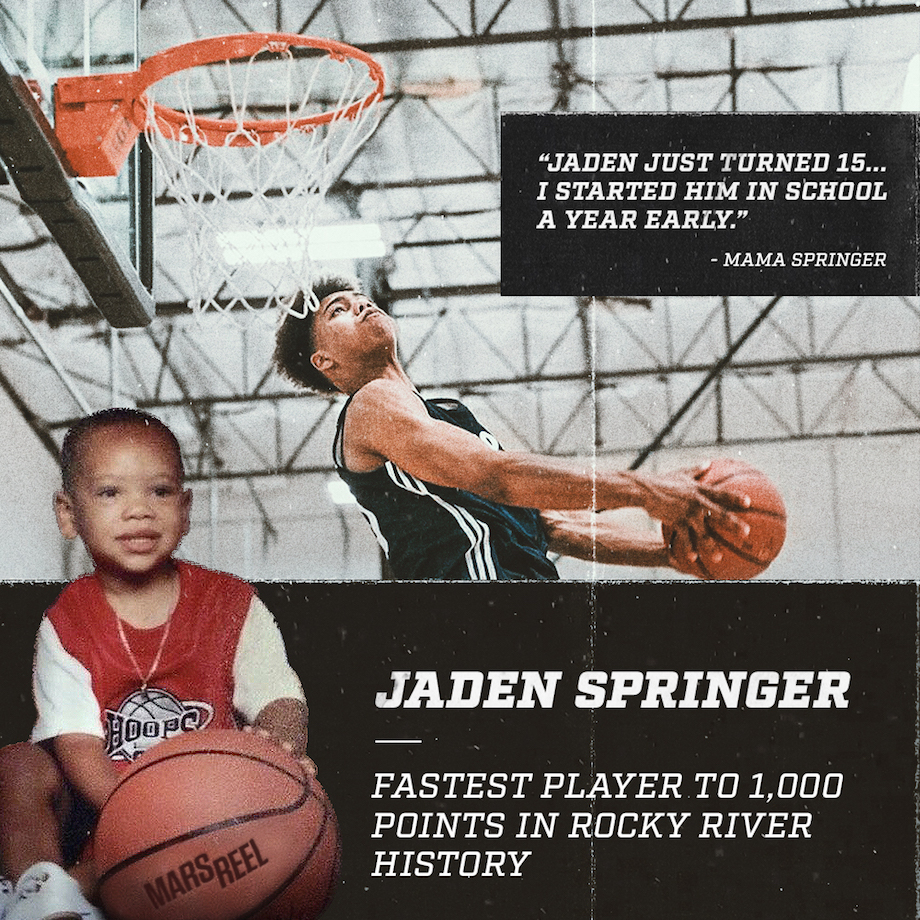 More than that though, the entire school experienced a transformation with the arrival of Springer which can also be largely attributed to the comprehensive efforts of principal Ericia Turner and the entire teaching staff.
This season, you may have been hard-pressed to attend a Rocky River game that wasn't already sold-out or completely packed. The environment was so great, that even some of the local celebrities made their way to Mint Hill including Dwight Howard, Dwayne Bacon and a dozen different Carolina Panthers players.
The scene was much different just one year prior as described by Jaden's mother Barbarita.
"Jaden started school there and for the first games we were like 'Where are all the kids? Where is the participation.' I just wasn't use to there not being a lot of kids at basketball games."
Barbarita recalls contemplating whether or not she should even send her son to Rocky River as a freshman. In addition to a less-than successful athletic reputation, the school was also suffering from negative public opinion as a result of constant fights and struggling academic records.
In the end, it was the words of the school's former basketball coach, Jermaine Walker, that convinced Barbarita that Rocky River was the right fit for her son.
"I wasn't going to send him to school there. There were a lot of fights going on. It didn't appear as though the basketball program had a lot of support… But [Coach Walker] who was one of my friends, told me that if you bring him– it's going to help the school and change the culture."
Coach Walker has now moved on to pursue his master's degree in administration while continuing to coach basketball, but his words were prophetic.
"The fights diminished in the school. The testing scores went up in the school. It was almost like the kids had something to be proud of… It was a blessing and just to think that Jaden had a part in that was remarkable."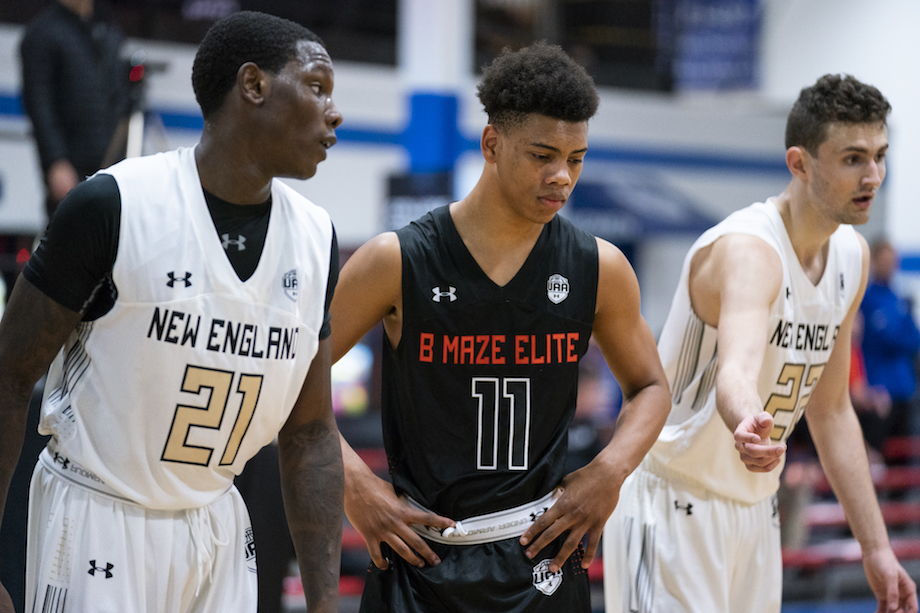 Photo: Kelly Kline/Under Armour
Photo: Kelly Kline/Under Armour
Despite his growing popularity, Jaden is still humble, if not down-right predictable according to his trainer Dom Bishop.
"He does the same things. All… The… Time." said Bishop while laughing. "I know he goes to Chick-Fil-A. I know he goes to school. Like I could tell you right now almost everything that he does…. I never have to worry about him being in the wrong place. Ever."
Bishop, like so many others, credits the success to Jaden's character and the support of his parents.
"That's a testament to his parents. They always make sure that he stays within himself," Bishop said.
Jaden's father, Gary Springer, was a talented basketball player in his own right.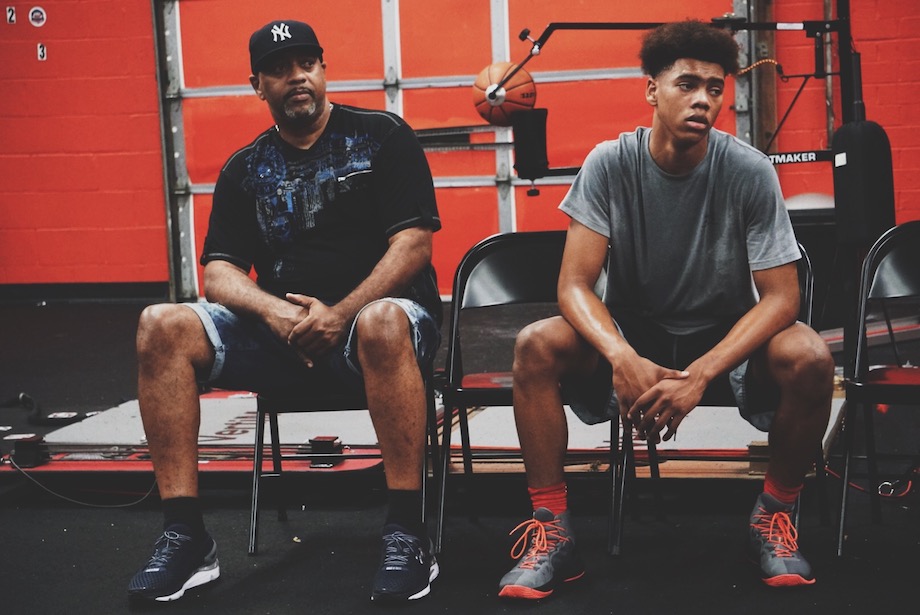 Photo: Courtesy of Jeff Garvin, JG2Filmz
Gary grew up in Harlem and played on one of the greatest New York City basketball teams ever at Benjamin Franklin High School. For his efforts, Springer was named a McDonald's All-American in 1980 and went onto play collegiately at Iona College. At Iona, Springer continued to distinguish himself, even while battling through injury.
In 1984, Springer was selected in the sixth round of the NBA Draft by the Philadelphia 76ers. However, a lingering knee injury would prevent him from ever playing professionally.
Although Springer was never able to fulfill his dream of playing in the NBA, he discovered a new dream with his family of four children and a life largely dedicated to philanthropy and reaching troubled youth through the game of basketball.
While Springer's playing career has certainly benefited Jaden as an athlete, it's also affected how he and his wife handle any of their children who pursue sports.
"Gary has always let them know– this is all a blessing," Barbarita said. "If God is blessing you to have this opportunity– then guess what? You gotta' share. You have to be kind, because it could be somebody else."
The Springer's work has not been in vain. Not only is Jaden a gifted athlete with a bright future in basketball, but he's also an exemplary person that isn't losing sight of how greatly he's been blessed.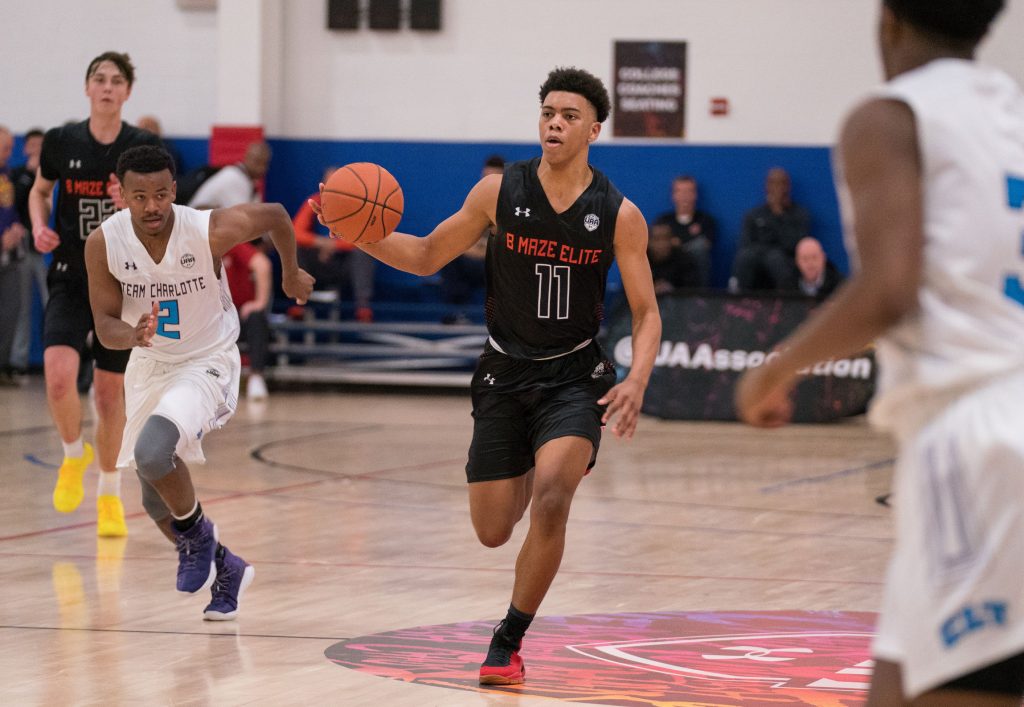 Photo: Kelly Kline/Under Armour
"It feels like a dream sometimes," Jaden said. "I still know that I've got a long ways to go, so I just gotta stay humble and keep working."
Stay humble and keep working… A motto to live by for one of the nation's top players.