Jarod Lucas, a senior at Los Altos High School in Southern California, became the all-time leading scoring in the CIF-Southern Section last night with a 52 point outburst against West Covina. Lucas is up to 3,285 points in his career at Los Altos.
The previous record holder was former McDonald's All-American and four-year NBA veteran Casey Jacobsen.
Lucas also passed current NBA players Jrue Holiday and DeMar DeRozan on his way to the incredible milestone.
The record-breaking moment happened with 5:18 remaining in the fourth quarter. Senior guard Isaiah Barcelo got a steal and passed the ball ahead to a wide-open Lucas, who easily completed the lay-in to make history. Lucas was immediately mauled by his teammates during the celebration.
There it is, 52 points for Los Altos' Jarod Lucas, who becomes the CIF-SS career scoring leader with 3,285 points to pass Glendora's Casey Jacobsen pic.twitter.com/xuwglxqwao

— Fred J. Robledo (@SGVNSports) February 1, 2019
I spoke with Jarod earlier this year when he was about to pass DeMar DeRozan for No. 6 on the all-time list. While talking on the phone, Lucas seemed optimistic that he could climb into the Top 3— but there wasn't any mention of him breaking the record.
"I kind of had a pretty good idea that I was going to make my way into the Top 10," Lucas said. "I really wasn't expecting to average 36 points per game. And you know averaging 36, I've got a good opportunity to make it in the Top 3."
Breaking into the Top 3 seemed like a realistic goal to me.
If Lucas kept the pace of 36 points per game, he would get enough to reach the Top 3. However, claiming the top spot outright, that felt like a bit of a stretch. Lucas would need 562 points over his final 13 regular season games to pass Casey Jacobsen for the No. 1 spot, which would require an absurd pace of 43.2 points per game.
Ludicrous right? Wrong
Lucas turned up the heat down the stretch, compiling three games with 50 or more points, and six games with 40-plus points. It's an amazing feat for a West Coast player that was only offered by one Pac-12 school.
"I for sure think I've been overlooked. But playing in Southern California, that tends to happen with the hotbed of talent out here," Lucas said. "I'm really looking forward to getting up to Oregon State."
After the game, Lucas had his No. 2 jersey retired to commemorate the season. He became the first player in Los Altos basketball history to have his jersey retired.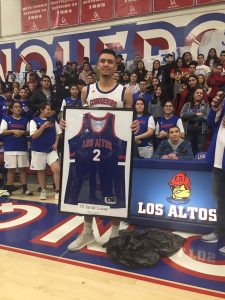 Other Milestones:
In addition to being No. 1 on the CIF-SS list. Lucas is also up to No. 5 among the single-season scoring leaders. He's at 1,118 points this year. That record holder is Tracy Murray. He notched 1,505 points during the 1988-89 season at Glendora High School.
And as for the entire state… Lucas is up to No. 4 on the all-time scoring list in California. DeMarcus Nelson, who played at Duke from 2004 to 2008, is the holder of that record with 3,462 career points.
Michael McLamb is the High School Hoops Editor at Mars Reel. You can follow him: @McLambSays