Here they are… It's the team that everyone expected against the squad that no one saw coming. Belleville West and Curie will collide in Class 4A semifinals in this much anticipated clash in the state of Illinois.
Let's take a look at the two sides.
Belleville West (32-4)

No one is surprised to see Belleville West back in this position. The team won last year's championship against Whitney Young— and after bringing back the 2018 Illinois Mr. Basketball winner in E.J. Liddell— the Maroons were labeled the preemptive favorites to defend the title.
There were certainly some bumps along the way. Last year, the Maroons went a perfect 26-0 against opponents hailing from Illinois. They dominated the competition and completed the season ranked as the No. 24 team in the nation by USA TODAY.
This year, head coach Joe Muniz challenged his squad with an even stronger national schedule.
The Maroons battled against St. Louis powers Vashon HS and Christian Brothers College, which featured several of the top players in the Midwest: Caleb Love (No. 33-ranked player in the Class of 2020), Cam'Ron Fletcher (No. 38-ranked player in the Class of 2020) and Mario McKinney (Missouri signee).
They also travelled to the Bass Pro Tournament of Champions to face-off against Arizona 4A champions Jaelen House (Arizona State) and Jovan Blacksher (Grand Canyon) from Shadow Mountain, along with one of Seattle's top teams in Rainier Beach featuring MarJon Beauchamp (No. 22 in the Class of 2020).
Congratulations to these guys for winning the Washington ToC last night. Kids played hard and with a lot of passion. But there is a lot of work to do this week to get better. #bwsports #proudcoach #neverbesatisfied pic.twitter.com/BJ7S046sJp

— BWest Hoops (@MaroonsHoops) November 26, 2018
Maybe that's what led to a little fatigue later in the season. Star forward E.J. Liddell (Ohio State signee) suffered an ankle injury which caused him to be sidelined during a 58-56 loss against Collinsville (IL). He returned for the team's next game against East St. Louis (IL), but they lost again by a score of 57-56.
The Maroons suffered their third defeat by an Illinois opponent on Feb. 19th against Alton (IL). That loss would cost the Maroons a shot at winning back-to-back Southwest Conference titles. Suddenly, the defending champs looked vulnerable.
Yet somehow, the Maroons rediscovered their swagger winning six straight games to put themselves in a spot to reach another Illinois state final. It's been a lot of E.J. Liddell that's gotten them here, but outsiders shouldn't overlook the key contributions of guys like Lawrence Brazill III and Keith Randolph.
People from the area will tell you that Brazil is one of the most underrated players in the entire state. The 5-foot-11 guard picked up his first scholarship offer last month from the University of Illinois-Springfield.
Randolph is a star defensive end set to play at Illinois on the football field, but he's also got some skill on the hardwood. The 6-foot-5 forward has been instrumental to the team's success.
Big @Randolph_22 is gonna be royalty around here! #ILLGang19 #ILLINI pic.twitter.com/dt4rJ5ZJSc

— Travis Perry (@travisperry12) December 19, 2018
Curie (34-1)

The improbable ascent of the Curie Condors will gain another chapter on Friday night.
No one expected this… Curie lost four players from last year's squad that are now playing college basketball:
Maurice Commander (UT Chattanooga)
Tyree Martin (Missouri Western State)
Treavon Martin (SIU-Edwardsville)
Tyler Clarke (University of Illinois-Springfield)
Star point guard Marquise Walker (who is a D-1 prospect) also decided to transfer to West Aurora (IL) for his senior season.
Still, despite losing so many key contributors, the Condors are stringing together a historic season. They completed Part 1 of the dream by defeating Morgan Park in the Chicago city championship. Part 2 is still in the works as Curie gets a shot at taking down the defending champs.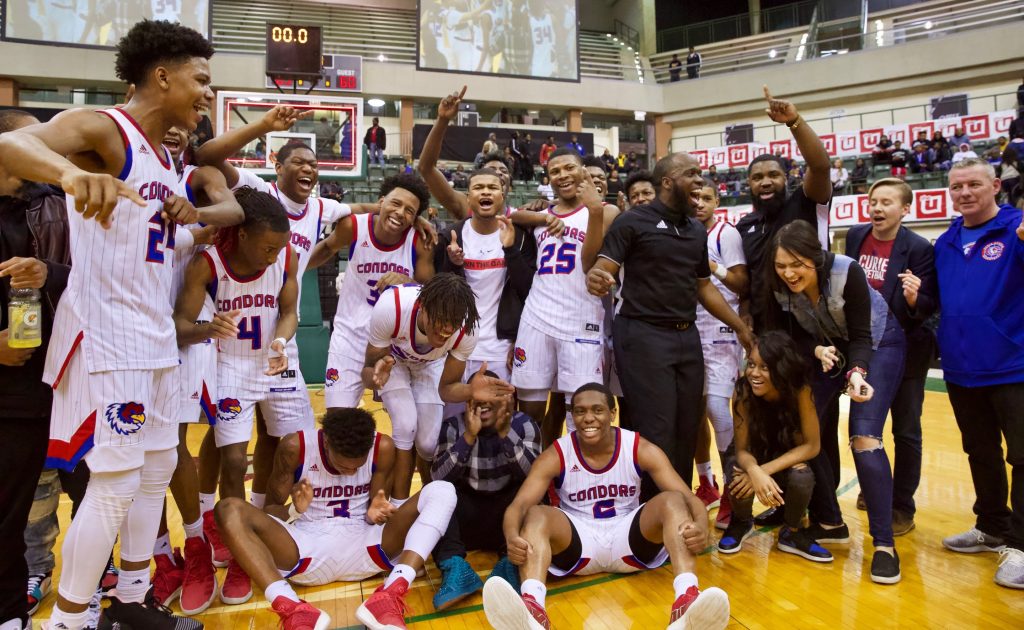 Photo: Vashon Jordan Jr. | Chicago Public Schools
Kansas State signee DaJuan Gordon has been the star this year, but it's undeniably been a team effort. Seniors Trevon Hamilton and Justin Harmon along with junior Ramean Hinton stepped into major roles after receiving limited minutes last season.
Hamilton was actually the one responsible for Curie's dramatic Super-Sectionals victory over Simeon. With 21.6 seconds remaining, Hamilton drilled the shot which would end up being the game-winner to lift Curie to a 56-54 victory.
Curie wins 56-54 over Simeon. An incredible final 30 seconds! pic.twitter.com/tAr25MY5NO

— Preps Talk (@NBCSPreps) March 13, 2019
Curie also added senior Damari Nixon this year. Nixon transferred over from Fenwick (IL) and has been a massive part of the team's success.
The Condors are on a run which feels strangely similar to Belleville West's last year. Curie is a perfect 29-0 against teams from the state of Illinois. They also checked-in at No. 12 in the latest USA TODAY Super 25 rankings.
Curie's first and only loss came back on Jan. 4th against California state-runner up Salesian College Prep. The Condors have won an amazing 20 games in a row since that point.
Final Thoughts:
Just one team will advance, which is a real shame.
Both sides are deserving of a shot at the title. Curie will need to contend with Belleville West's size and physicality.
The Condors like to play small and fast, while the Maroons punish opponents and beat them down in the paint.
It all goes down on Friday, 5:30 p.m. at the Peoria Civic Center.
Michael McLamb is the High School Hoops Editor at Mars Reel