I had the chance to watch some of the best players in the country last month at the 2018 Team USA Minicamp. This is a subjective list on my six favorite players from the camp.
De'Vion Harmon
Guyer High School (Denton, Texas) | Point Guard | Oklahoma Commit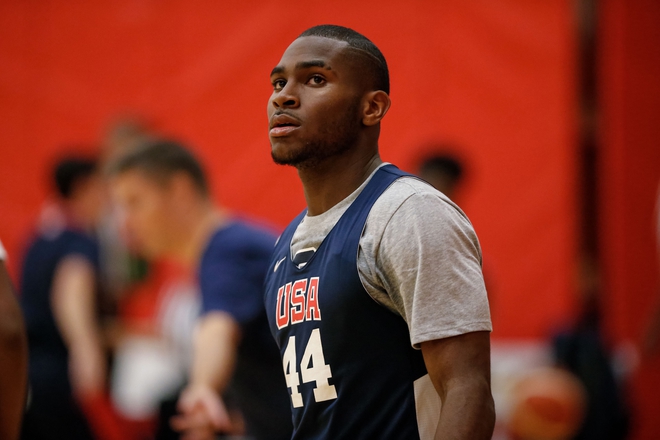 Photo: Isaiah J. Downing-USA TODAY Sports
Oklahoma fans should be ecstatic to welcome De'Vion Harmon to campus next season. I'm always a fan of point guards that possess alpha dog personalities on the basketball court. I love watching guards who truly command an offense. Harmon checks all of those boxes.
Harmon plays his best when attacking the basket with quickness from the high post. He handles the ball with so much strength and poise, which makes him an increasingly difficult defensive assignment. He finds his way into the paint with crippling consistency.
Funny Story:
After finishing one of the drills on Friday afternoon, Harmon playfully drove to the basket and performed an acrobatic trick shot at the rim. I happened to be standing on the baseline at the time with my camera. He immediately turned to me after making the lay-up and said, "Man I hope you got that on film, because that was tuff."
I looked at him disappointingly and told him that I had not been filming. After I broke this sad news, you would have thought that De'Vion had just lost his puppy based on his expression. He was genuinely sad that I didn't capture his crazy lay-up on film.
As funny as that might sound, it was actually in this moment that my thoughts concerning him were solidified. De'Vion Harmon is a gamer, he commands the spotlight and he wants you to know it.
Greg Brown
Vandegrift High School (Austin, Texas) | Power Forward | No. 5 in the Class of 2020
I'm always interested to see who the next viral sensation will be like Zion Williamson or Mac McClung. Greg Brown has that type of potential. At 6-foot-7 with a nearly 7-foot wingspan, Brown will throw down plenty of eye-popping dunks in his future.
Brown has been considered an elite prospect since the eighth grade; yet even still, it feels as though he's been flying under-the-radar compared to some of the other five-star players in the Class of 2020. It's kind of crazy to think that a consensus Top 10 player could be considered 'under-the-radar,' but that's exactly what it feels like with Greg Brown.
After watching Brown glide to the basket for dunk after dunk this past week, I couldn't help but wonder why he isn't already a national phenomenon like Cassius Stanley or Jalen Lecque.
I'm not sure how to answer that question, but I am convinced that his time is coming. His performance at the Team USA Minicamp was just the beginning. Greg Brown is truly special.
Scottie Barnes
University School (Fort Lauderdale, Fla.) | Small Forward | No. 4 in the Class of 2020
He might be smiling in the picture above, but Scottie Barnes is as mean as a snake on the basketball court. Just like De'Vion Harmon, Barnes is another player that just loves to compete.
Barnes is a player that will get inside the heads of opponents as a result of his aggressiveness and physicality. Standing at 6-foot-7 with a muscular frame, Barnes drives to the basket with the power of a freight train on offense.
Defensively, Barnes is a frustrating presence. He seems to enjoy getting in the space of opponents and making them feel uncomfortable. At times, Barnes might even get too aggressive and commit a bumping foul in transition or a body block in the paint.
Some coaches might disagree, but I like to see a guy who commits two or three fouls because he's just playing aggressively. I like players that won't back down and that might even body you up a couple times, just to remind you that they're still there.
Scottie Barnes is my type of player.
Johnny Juzang
Harvard Westlake (Los Angeles, Calif.) | Small Forward | No. 26 in the Class of 2020
Southern California possesses a wealth of talent this season. Cassius Stanley, Josh Christopher, Onyeka Okongwu and the Mobley brothers are just a few of the names that are set to light-up Los Angeles. However, often lost in the shuffle of all this talent is Harvard Westlake standout Johnny Juzang.
Every time I watch Juzang, I'm continually impressed by the smoothness of his game. He finds his points so effortlessly from all three levels on the court. Juzang's jumper is a thing of beauty to watch in-person. His release is so quick and extremely fluid.
Juzang also displayed a level of craftiness with the ball in his hands this week. He really understands how to effectively utilize his body to maneuver around smaller defenders and get to the basket.
Juzang played with tons of confidence at the Team USA Minicamp. College coaches should be making him a top priority on the recruiting trail.
Cade Cunningham
Montverde Academy (Montverde, Fla.) | Small Forward | No. 9 in the Class of 2020
It's great to know that players like Cade Cunningham still exist at the high school level. I don't often see players with Cunningham's skill that also remain pass-first in their approach to the game. The USA Basketball Camp doesn't record official stats during scrimmages, but I have to believe that Cunningham would have been one of the leaders in assists at the camp.
Players with similar talent levels typically rely more heavily on their raw abilities to force the issue on offense. That's why it's so refreshing to see the balance in Cunningham's game.
With a basketball IQ that's also off the charts, I'm thinking Kevin Boyle will be delighted to have Cunningham at Montverde this season.
Scottie Lewis
Ranney School (Tinton Falls, N.J.) | Small Forward | Florida Commit
Five-star Scottie Lewis is off the board and has committed to Florida https://t.co/rNAm9IEms5 pic.twitter.com/VPc7HxRkWa

— Brian Snow (@BSnow247) October 3, 2018
There are leaders… and then there are followers.
Scottie Lewis is most definitely a leader. Off the court, Lewis strives to use his platform for the promotion of equality and the end of discrimination. On the court, Lewis also stands out as a strong leader.
USA Basketball training sessions are formulated to encourage high energy performances combined with boisterous communication among teammates. Lewis was constantly a leader in both of those areas. It was a common sight to see Lewis demonstrating drills, and helping get some of the younger guys on the same page with instructions.
By now, people should know that Lewis is an extraordinary athlete with a well-established all-around game. Florida will be receiving an incredibly refined player in Scottie Lewis; however, if I'm a Gators fan— I'd be more excited about the leadership qualities that he possesses combined with that immense talent.
Championship caliber teams always possess players who are gifted leaders. Scottie Lewis will bring exactly that to Florida.