With the spring portion of the AAU season coming to an end, we take a look at which prospects raised their stock the most.
2020 PG Deivon Smith of Atlanta Celtics (GA)
Deivon Smith, out of Grayson High School in Loganville, Georgia, has been on a tear over the last few months dating back to the beginning of the high school season. His breakout year has earned him a plethora of offers from schools like LSU, Ole Miss, Nebraska, Oregon, Auburn, Providence, Florida, Clemson, and others.
Smith is a 6-foot point guard with extremely gifted athleticism. He is a bouncy guard, with high-level explosiveness, and holds elite quickness on the floor to drive right by his defenders. He certainly raised his stock during the high school season, and he carried that momentum into his play on the Adidas Gauntlet.
2020 SG Bryce Thompson of Oklahoma Run PWP (OK)
Photo: Kelly Kline/Under Armour
This year's Under Armour Association's leading scorer, Bryce Thompson, might be the biggest riser in the national rankings by the end of the summer. He finished the UAA's regular season averaging 25.8 points per game.
Thompson is a 6-foot-3 shooting guard, who draws comparisons to a C.J. McCollum type of guard. He has that scorer's mentality built in him. He can easily create separation for a shot, attack in transition by running the floor, and is able to finish at the cup as well through traffic.
Thompson is currently ranked No. 61 according to 247Sports but in my opinion he can wind up as a Top-20 prospect. A plethora of high-major programs have been locked on him throughout the spring.
2020 F Jabri Abdur-Rahim of Playaz Club (NJ)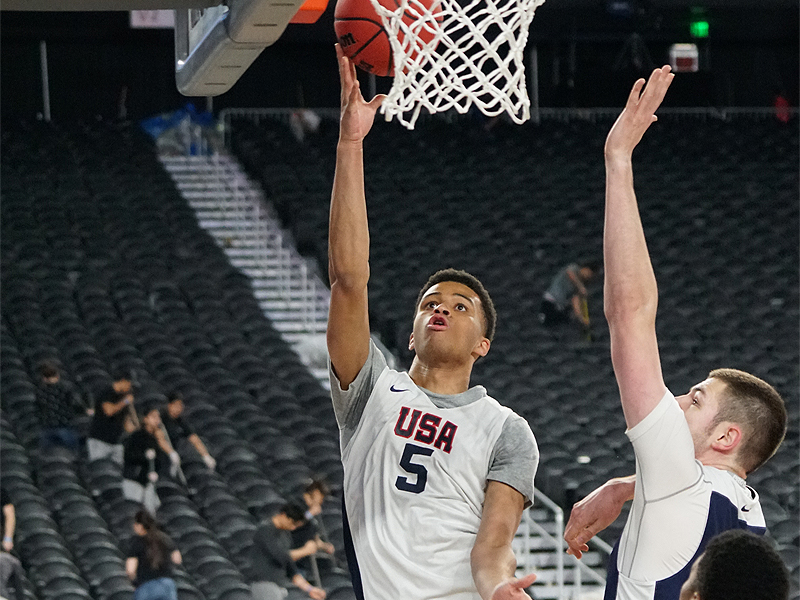 The 6-foot-6 forward, Jabri Abdur-Rahim, has had an amazing comeback throughout the year after his injury kept him off the AAU circuit last year. His national ranking took a slight decline after being sidelined, but Abdur-Rahim is slowly raising his stock back to where it belongs.
Currently averaging 25.3 points per game in the Nike EYBL, Jabri has shown he is considered one of the best scorer's in the 2020 class. He is capable of scoring on all levels, he has a quick jump off the ground, and plays with a high-motor that separates him from others.
High-major programs like Villanova, UConn, Illinois, Arizona State, Virginia, Notre Dame and others have offered the junior forward recently in the last couple of months.
2020 PG RJ Davis of New York Rens (NY)
The 6-foot-1 point guard R.J Davis out of Archbishop Stepinac in New York, continues to elevate his stock during the AAU season after a big year in high school.
New York hoopers RJ Davis and Adrian Griffin Jr have come alive down the stretch for Archbishop Stepinac! What squad has the best backcourt in your city? pic.twitter.com/9ijRGyuJut

— Mars Reel (@marsreel) February 13, 2019
Davis has had himself an incredible Nike EYBL season this spring, averaging 21.4 points per game through two sessions and helping the New York Rens stay at the top of their division.
There's one way to describe Davis's game and that's "bucket-getter." He is a scoring machine at his size as he can get his points in so many ways. He is quick when attacking the rim, a good outside shooter and overall shot maker, and is engaged in the action on both ends of the floor.
Davis is receiving some much deserved attention from college coaches and scouts throughout the spring and should continue to receive that recognition as the season goes along.
2020 SG Keon Johnson of EAB Tennessee (TN) 
Virginia, Tennessee, and Ohio State are the three schools remaining in the hunt for 6-foot-3 shooting guard Keon Johnson. The junior's stock has escalated greatly over the spring period and is currently averaging 22.3 points per game while playing with EAB (TN) on the Adidas Gauntlet.
Johnson is currently ranked No. 30 according to 247sports. He is an athletic combo guard who is always aggressive attacking and finishing at the rim. He is an active playmaker on the defensive side of the ball and holds a quick first step when taking his defenders off the dribble.
Johnson knows that he needs to improve his ball-handling and become a more consistent shooter. As he refines those skills, Johnson will become an almost unstoppable playmaker.
2020 PG AJ Hoggard of PSA Cardinals (NY)
One of the most consistent prospects you will find regardless of class is AJ Hoggard of Huntington Prep (WV). He is currently averaging 16.6 points per game after two sessions on the Nike EYBL. He is a major reason why the PSA Cardinals (NY) are currently at the top of their division at 7-1.
Hoggard is super-efficient on the floor. He is capable of getting to the rim in transition and in the half court. He utilizes his body effectively and displays intelligent decision-making when passing.
The 6-foot-3 guard has several schools on his trail including: St. John's, Michigan State, Maryland, Louisville, Marquette, and more.
Samad Hines is a contributor for Mars Reel from Atlanta. You can follow him @Mod_Hines