University School came just one game short of winning a national championship last season. In many ways, the team's 2017-18 campaign was a little surprising. The Sharks entered the season being unranked and largely unheralded.
The team's remarkable season began last December at the City of Palms Classic in Fort Myers. University School (Fort Lauderdale, Fla.) blitzed through the competition defeating four teams ranked in the USA TODAY Super 25, including then No. 1-ranked Memphis East.
The Sharks' ascent to the top continued with wins at the John Wall Invitational and a state title in the Florida 5A classification, which solidified an invitation to the 2018 GEICO Nationals.
University School gained a first round victory at the GEICO Nationals over Arizona-power Shadow Mountain and a semifinal win against Oak Hill to setup an all-Florida final versus Montverde Academy. However, in the championship game, Montverde proved to be too strong as R.J. Barrett dropped 25 points along with 15 rebounds to propel the Eagles to a fourth national title.
Nationally Ranked Players (via 247Sports):
Vernon Carey: 6-foot-10 Center | No. 2 in the Class of 2019
Scottie Barnes: 6-foot-7 Small Forward | No. 4 in the Class of 2020
Roger McFarlane: 6-foot-4 Combo Guard | No. 139 in the Class of 2020
Key Returners:
University School will bring back its powerful one-two punch of Vernon Carey Jr. and Scottie Barnes for a final go-round. There might not be any better combination in high school hoops than Carey and Barnes. Both are consensus five-star prospects and ranked in the top five in the Class of 2019 and 2020 respectively.
Perhaps what's most special about this dynamic duo is their chemistry. Carey and Barnes spent their spring and summer months playing together with Nike Team Florida and Team USA.
Also returning is Logan Alters, Xavien Flowers and Jalil Beaubrun, all three of which competed together on Nike Team Florida.
Alters is a knockdown three-point shooter, who announced that he'll be enrolling at Cal Berkeley as preferred walk-on next year.
I am honored and humbled to announce my commitment to play basketball and continue my education at UC Berkeley. I want to thank Coach Jones, Coach Grace, and the entire coaching staff for giving me the opportunity to become a Golden Bear. pic.twitter.com/1tPwrhF0yz

— Logan Alters (@logan_alters) July 31, 2018
Flowers and Beaubrun are two-sport players that also star on the University School football team. On the court, Flowers is a suffocating defender and an athletic presence in the backcourt. Beaubrun is a 6-foot-7 power forward, that should see his name called more this season.
Key Losses:
The losses of standouts Drue Drinnon (New Mexico) and Trey Doomes (West Virginia) is a major blow to University School's chances of winning a national championship. Drinnon was the team's floor general and also the point guard that made this offense go. Doomes did a little bit of everything for the Sharks. He was an excellent defender, rebounder and an explosive offensive threat with a crazy vertical.
Key Newcomers:
After a productive summer with Team Thad on the Under Armour circuit, Roger McFarlane will step into major role with University School. McFarlane spent his sophomore year at Raleigh Egypt High School (Memphis, Tenn.) where he was a leading scorer.
In many ways, the success of University School will largely depend on McFarlane. With the losses of Drue Drinnon and Trey Doomes, the Sharks will desperately need another offensive threat that can free up Carey and Barnes.
Jace Howard, a transfer from nearby Gulliver Prep (Miami), will also be asked to contribute in big-time ways. Howard is the son of NBA veteran and current Miami Heat assistant coach Juwan Howard.
🙅🏾‍♂️ pic.twitter.com/lCsMDau3lp

— Jace Howard (@jaceh0ward) October 10, 2018
University School will also gain David Perez, who transferred from Riviera Prep (Miami). Perez is a 6-foot-1 true point guard that gained valuable experience competing on the Venezuelan National Team during the 2017 FIBA U-16 Americas.
Last but not least, Jett Howard (Jace Howard's brother) will likely play an important role in University School's success as just a freshman.
Howard is continuing to develop into one of the better prospects at his age. Last week, his talent was further validated as one of the few players from the Class of 2022 who received an invite to the Team USA Minicamp.
Officially Welcome
16U Intro: Jett Howard
Jersey: #13
(@JettHoward5)
Class: 2022
Height/Pos: 6'4/G
HS: Gulliver Prep#FloridaLightningBasketball #LightningAAU #UAA #16U @UAassociation @UAbasketball pic.twitter.com/uZPbBUwFCO

— CBF LIGHTNING (@CBF_LIGHTNING) April 8, 2018
McLamb's Perspective:
University School was a newcomer to last year's GEICO Nationals, so they don't necessarily have the history of prep powerhouses like Montverde, Oak Hill and etcetera. With that in mind, I was skeptical if they would be able to reload with the necessary pieces to replace Drue Drinnon and Trey Doomes.
The additions of Roger McFarlane, David Perez and the Howard brothers will go a long way to help boost the team's chances of making it back to the GEICO Nationals— but will it be enough to help them win?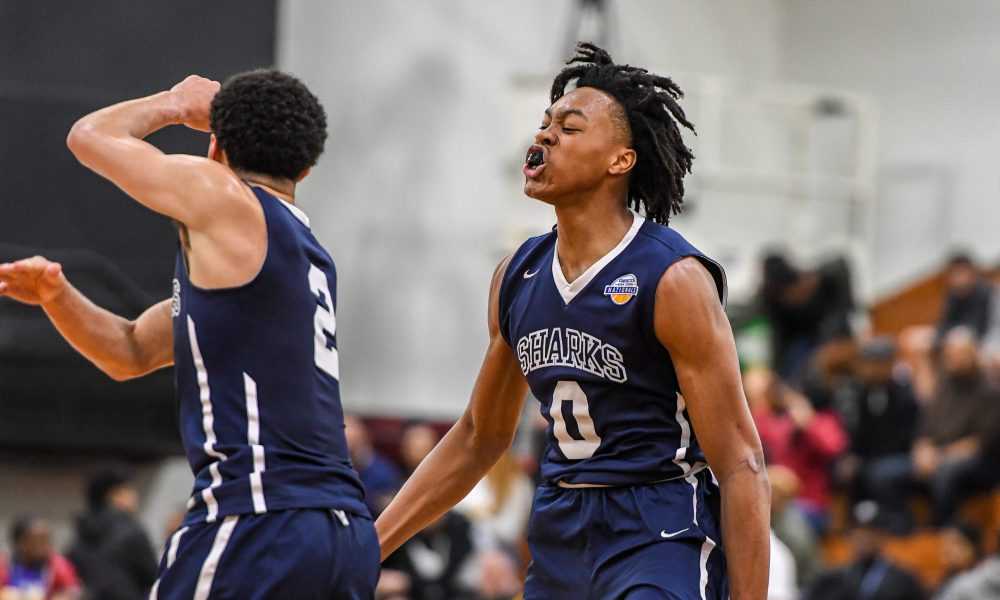 Photo: Dennis Schneidler, USA TODAY Sports
Photo: Dennis Schneidler, USA TODAY Sports
My feeling is that this team is a little less talented than last year's squad. I expect Vernon Carey and Scottie Barnes to be dominant with another year under their belts, but I don't think the team has enough talent to beat the 'death squads' at Montverde, Oak Hill and IMG.
If I'm wrong, it will be because the Sharks are able to recreate some of the magic from a year ago. Last year's team was supremely athletic and also one of the better defensive teams in the country. Drue Drinnon and Trey Doomes weren't just solid players— they were great players. Carey and Barnes received a lot of the headlines, but any four of those guys could have led the team in scoring on any given night.
The ball is in the court of guys like Logan Alters, Roger McFarlane, Jace Howard and David Perez to step up.