Without the efforts of junior superstar Zaire Wade, the American Heritage Patriots dropped a 92-61 decision to the Stranahan Mighty Dragons. Stranahan used a 24-point second quarter to pull away from American Heritage. Senior guard Brian Dugazon led the Mighty Dragons with 19 points.
Without their leading scorer, the offensive slack for the Patriots rested on Andrew Volmer. The junior posted 28 points, fighting his way into the lane for 21 second half points.
Still, without Wade, the offensive firepower of Stranahan was too much for American Heritage to overcome. The Mighty Dragons poured in a season-high 92 points on senior night.
"I am hearing different things, but he might be done and shut it down," said head coach Fred Battle on the status of Wade.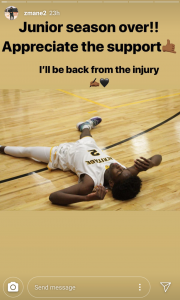 "It was a hip injury that started back in the Archbishop McCarthy game. He has been trying to go. This is not the first game he has missed. He missed a game against Calvary Christian and Palm Beach Lakes," Battle said. "He missed a couple of other games where we played back-to-back nights and he sat out on a back-to-back night.
"I told him when he hurt it against Archbishop, to sit until the playoffs— when we need you. The other games we can get through until districts where we can make something happen. Now, it is a possibility that we may not have him in those important times."
After the first eight minutes of play with Stranahan up a single point, the Mighty Dragons set off on a 8-2 opening run highlighted by a 3-pointer by junior Chayse Culpepper. Culpepper is the son of longtime NFL quarterback Daunte Culpepper, who was in attendance.
With momentum on its side, Stranahan converted two Heritage turnovers into dunks to take a 32-21 lead with 4:42 to go. Even with a Battle timeout to diffuse the Stranahan's surge, it would be too late without Wade's explosive scoring threat in the lineup. American Heritage would score just 11 points in the quarter.
Dugazon was joined in the offensive explosion by teammates Inandy Legiste and Jordan Greene. Legiste finished with 18 points, while Greene finished with 16. The Mighty Dragons, coming off a tough 1-point defeat to Miramar High School, have won 11 of there past 12 games to finish the regular season with a 20-4 record.
"We bounced back after that tough loss to Miramar," said Stranahan head coach Terrence William. "I didn't think the mentality would be there to just run, pressure, and have that relentless touch on the ball offensively and defensively. I am very impressed how they were able to bounce back after Tuesday night. Hopefully we can keep that up."
After tonight, the Mighty Dragons perspective on the playoffs appears to be slightly different than that of the Patriots.
On a positive note for American Heritage, senior Masai Olowokere was aggressive around the glass to finish with 15 points. Olowokere and Volmer will need to take on larger roles with Wade's future uncertain heading into the last two games of the regular season.
"We played very well as a team tonight," said Dugazon. "It is a big accomplishment having won 20 games and it feels good to just win. However, it won't matter until we win states though."
Michael Costeines is a contributor for Mars Reel based in South Florida