Welcome back to our three-part, fantasy one-on-one tournament. If you already read Part 1, go ahead and skip down to the action. But for those who might be a little lost or need a refresher, here's a quick recap.
Here's How it Works:
The idea behind this whole thing is to create a 1-v-1 single elimination tournament, which would feature the best high school players of the 2019 class.
For the purpose of this fantasy exercise, I looked to the Chosen 25 rankings by USA TODAY. As you might expect, it contains who they deem to be the Top 25 players in the nation.
And since it would be a little unfair to pair, let's say, a mammoth 6-foot-11 big with a lightning-quick 6-foot-3 leading guard, I divided the players into three different brackets: guards, forwards, and big-men (eight per position).
In Part 1, we covered the guards. Now it's time to get to a notch up and take on the forwards bracket, which features some of the most explosive players around the nation. Here's a look at the field:
1. Josh Green
2. Matthew Hurt
3. Kahlil Whitney
4. Precious Achiuwa
5. Trendon Watford
6. Scottie Lewis
7. Jeremiah Robinson-Earl
8. Keion Brooks
This is just my personal take on what might happen. So if your predictions don't align with mine, tell me why. Join the conversation.
1st Round
Game #1:
(No. 1) Josh Green vs. (No. 8) Keion Brooks
Does the name "Ben Simmons" ring a bell? So, what does he have to do with Josh Green? They're both from Australia and both were top-ranked forwards in their respective classes— and as good as Ben has been so far, Josh is poised to overcome his fellow countryman. Expectations are high, but Green is all about smashing them.
Athletic as they come, Green has all of the tools to score near and far from the rim. He might not need court vision in a 1-v-1 competition as he won't be looking for teammates, but rest assured he can also do that effortlessly. Oh, and they say defense wins championships. Put that on his resume too.
Keion Brooks enters the competition as the lowest-seeded forward, but he's never been considered lower than a Top 20 player by most scouting services.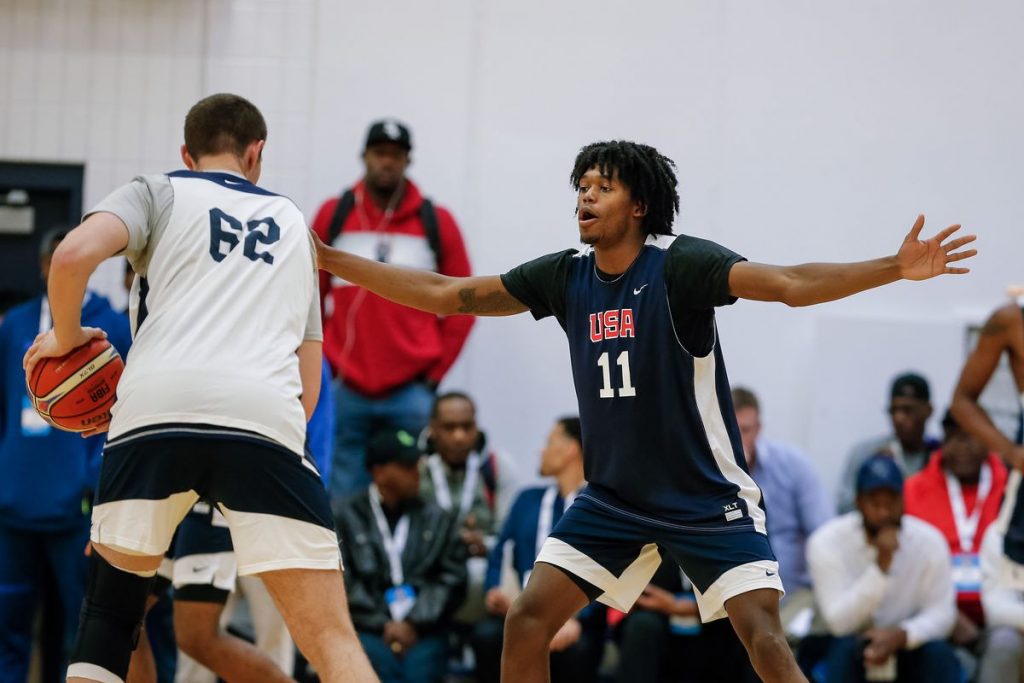 Photo: Isaiah J. Downing-USA TODAY Sports
Brooks can be considered a do-it-all guy in his own right and Calipari got himself a wildcard for next season's Kentucky squad. He can play as small as a two, and as big as a four. He is able to stretch the court and will give you buckets at any time, any place.
Still a little slender, he favors his agility and shooting versus overpowering in the paint at this point.
I'm taking Josh Green in this game, but not by a wide margin.
Winner: (No. 1) Josh Green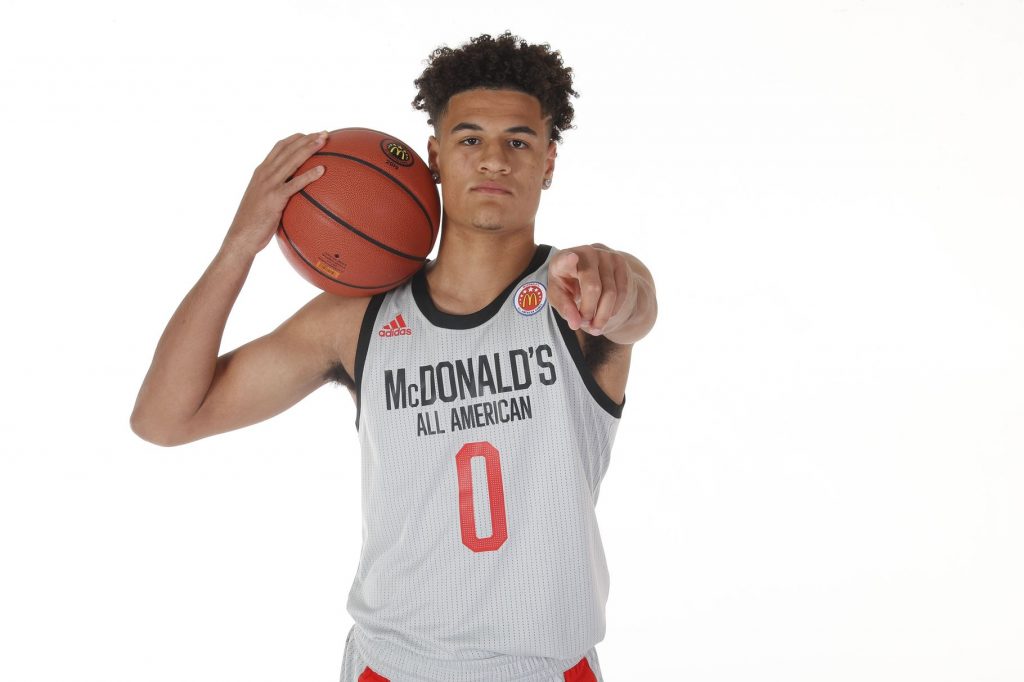 Photo: Brian Spurlock-USA TODAY Sports
Game #2:
(No. 4) Precious Achiuwa vs. (No. 5) Trendon Watford
It's about time we got ourselves a Bronx-native and Montverde Academy player to talk about. Precious Achiuwa comes in a little raw, but still as one of the most brutal ballers to feature in this tournament.
Precious has the size to go over anyone, and is fast enough as to outpace smaller and quicker defenders. He doesn't fear driving to finish at the rim, and it doesn't take long for him light up the opposition from all three levels.
Trendon Watford is undoubtedly one of the underdogs of the tournament. This is common for several other players in this bracket, but hailing from Alabama also makes Watford a little more unknown.
So… For those who might be unfamiliar with Trendon Watford, he's a walking double-double who's been putting up numbers his entire career. A two-time Alabama Mr. Basketball, he can overpower anyone that dares put his body between him and the rim.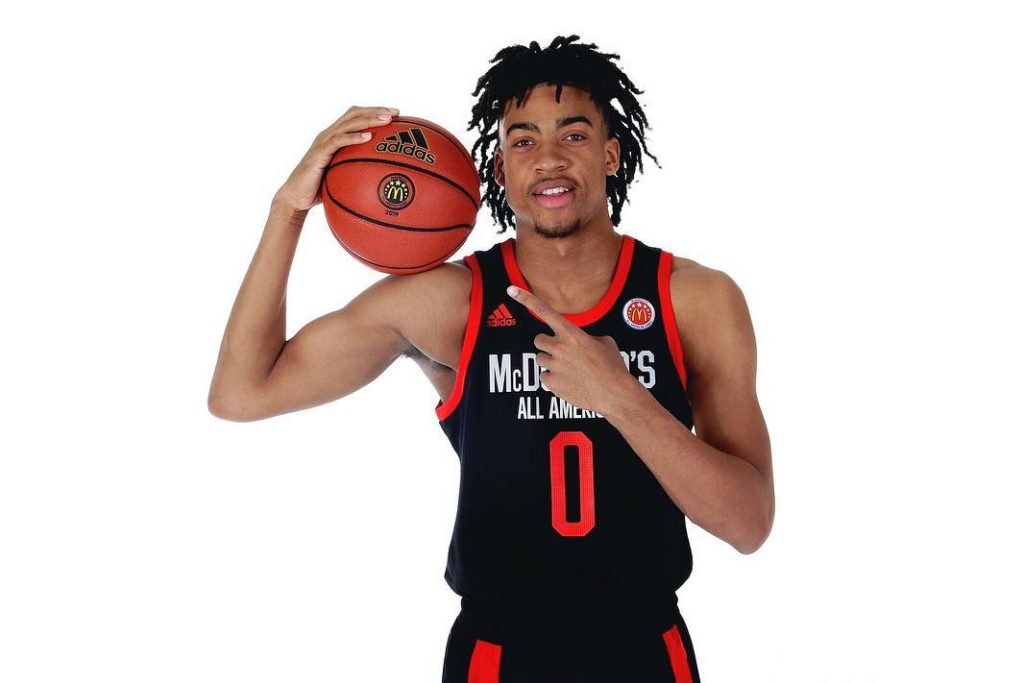 Photo: Brian Spurlock-USA TODAY Sports
Achiuwa feels a little more well rounded to my eyes, but that doesn't mean this wouldn't be another close game (we're talking about a No. 4 vs No. 5 matchup here, so no scenario would be deemed a surprise).
One of the great things about Watford is that he's a winner. He won three consecutive state titles at Mountain Brook High School, and this season he led his squad in a massive upset over IMG Academy at the City of Palms Classic.
Watford has great versatility and I could easily see him playing multiple positions at the next level.
In the end though, I'm going to take the Montverde star in this matchup.
Winner: (No. 4) Precious Achiuwa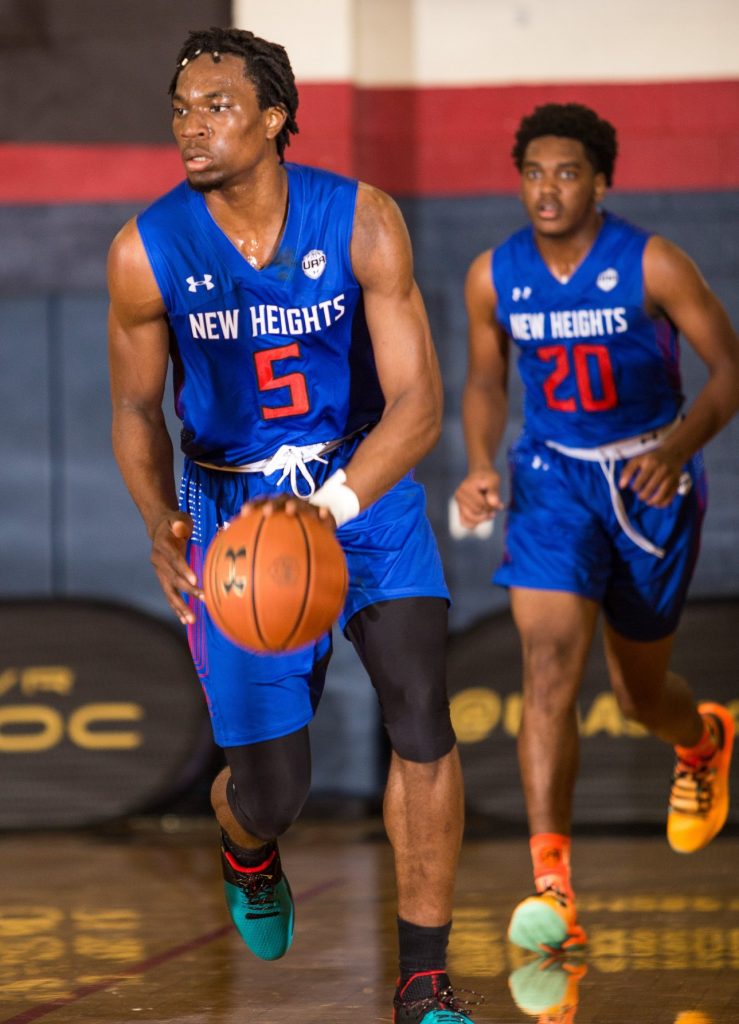 Photo: Kelly Kline/Under Armour
Game #3:
(No. 3) Kahlil Whitney vs. (No. 6) Scottie Lewis
When compared to some of the other players in this bracket, Kahlil Whitney and Scottie Lewis enter being a little undersized.
Kahlil Whitney may check-in at 6-foot-5, but it's still no wonder why blue-blood Kentucky pounded on him early. Although he couldn't snatch NJ's state chip from Ranney this season, he gave them all he could. Yes, Whitney is a good scorer, but one of the most underrated aspects of his game is his unselfishness and ability to find teammates easily.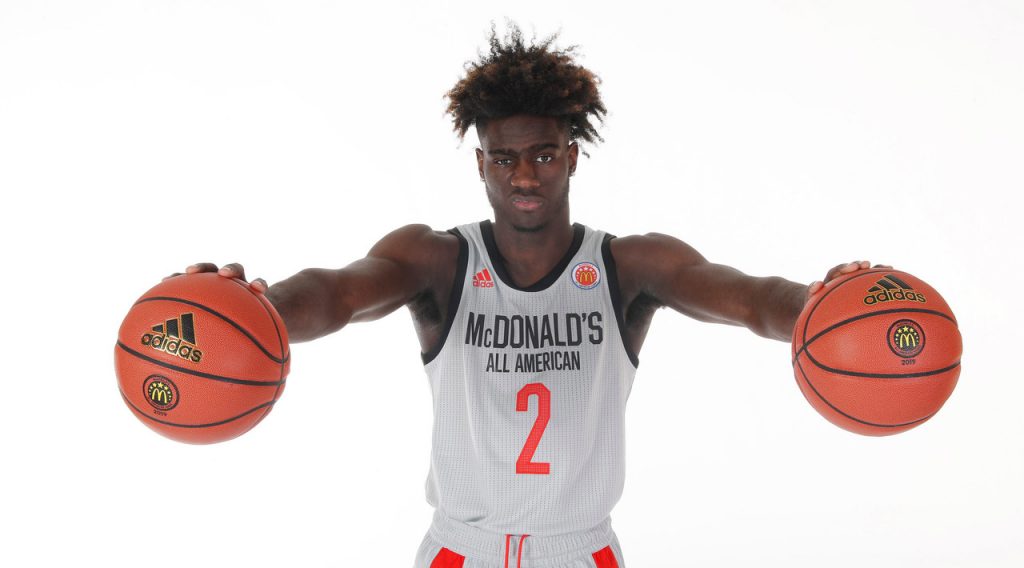 Photo: Brian Spurlock-USA TODAY Sports
Still, we live in the age of the mixtape. I'm sorry if this upsets you, but in this one-on-one tournament, highlights are what I'm looking for. And I can't think of a better highlight-maker than Scottie Lewis.
Lewis, along with top-prospect Bryan Antoine, has played tremendous ball this year. Take a break and go look at some of his highlights and the strike difference to most of the other heralded kids in the 2019 class. His motor just never seems to run out of fuel.
Lewis already beat Whitney in the state championship, and I'm giving him the edge here as well.
Winner: (No. 6) Scottie Lewis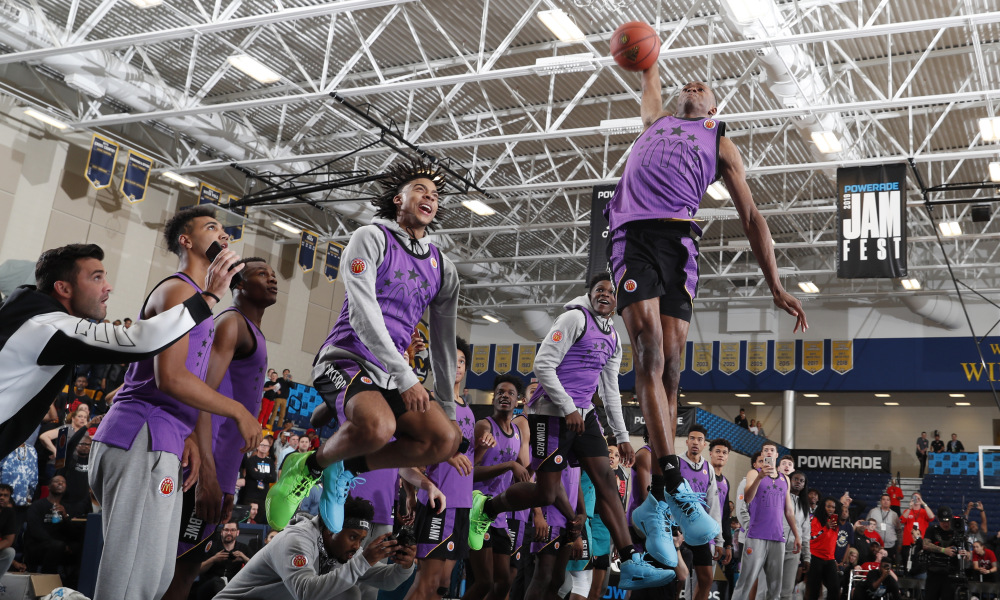 Photo: Brian Spurlock-USA TODAY Sports
Game #4:
(No. 2) Matthew Hurt vs. (No. 7) Jeremiah Robinson-Earl
Talk about under-the-radar prospects.
Who is the last great to come out of Minnesota? Tyus and Tre Jones from Apple Valley? Or do we need to go all the way back to Kevin McHale?
We could be (I'm leaning towards a better suited "we actually are") looking at the next big Minny-Man. His name is still unfamiliar to most people's ears, yet Matthew Hurt has been a Top 10 player for almost three years now in the 2019 class. No surprise, given his displays.
You aren't getting a muscle here, but don't get fooled by appearances. He has a killer game based on scoring in bunches with massive effort up and down the court. There may be more flashier players here, but you know what you're getting with Hurt, and those are Ws.
When someone plays on a stacked team like IMG, it's easy to go unnoticed or not shine as much as the other McDonald's All-Americans on the roster. Such is the case for Jeremiah Robinson-Earl.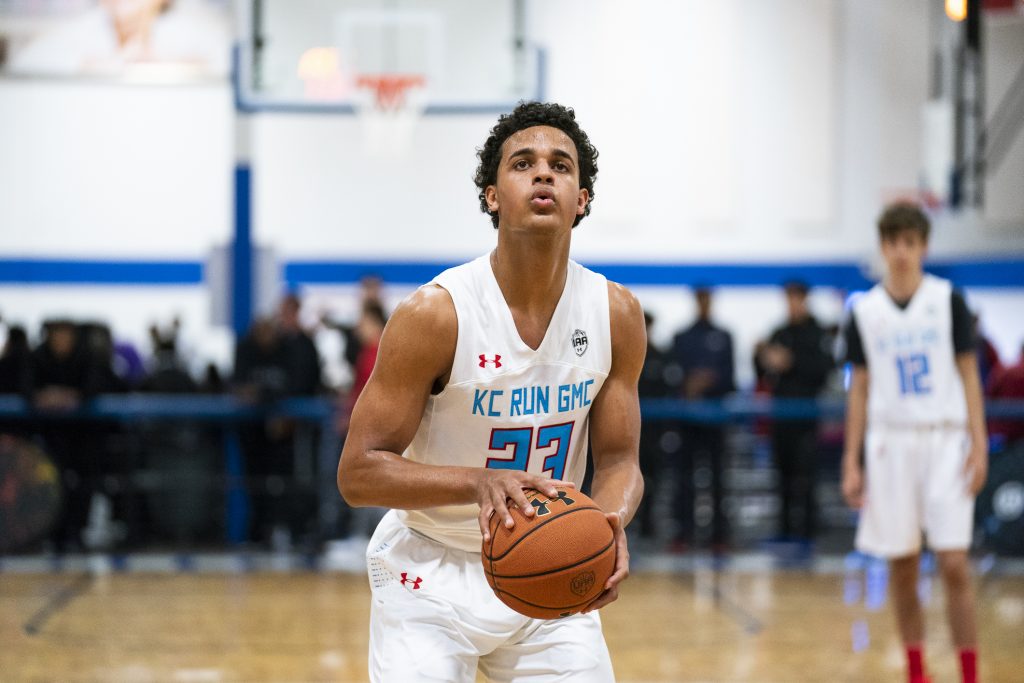 Photo: Kelly Kline/Under Armour
In a matchup in which both contestants come as what-you-see-is-what-you-get, productive players, Robinson-Earl finds his offensive game just inside the arc and at the rim. But most of all, he excels in defense with a truly great ability to block shots and put the clamps on the opposition.
This one another really tough call, but I'm going with the low-key hooper here in Matthew Hurt.
Winner: (No. 2) Matthew Hurt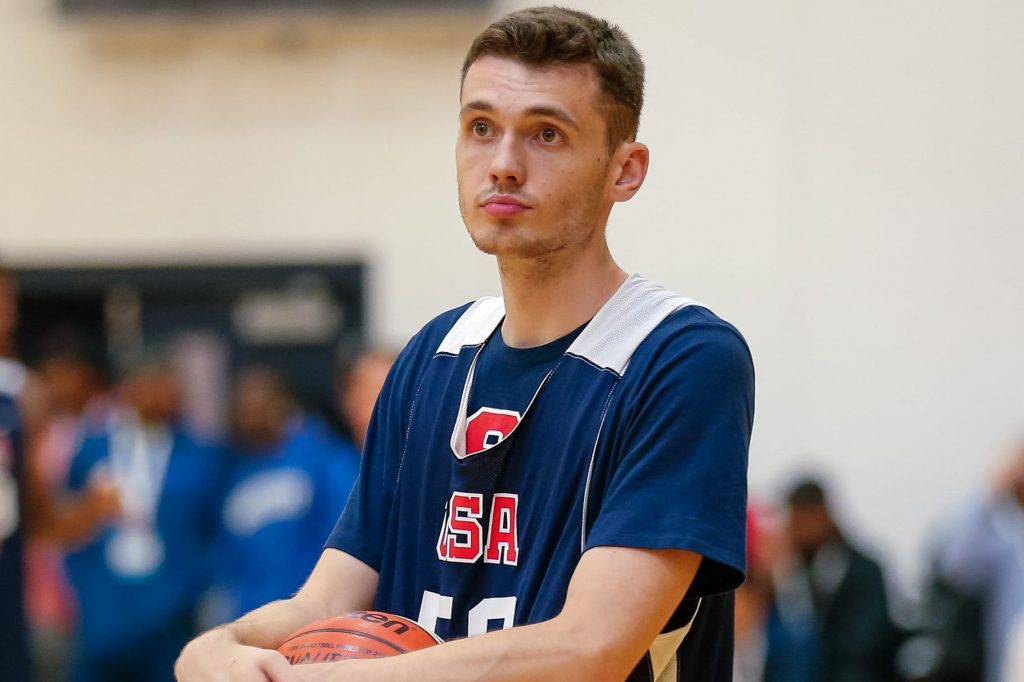 Photo: Isaiah J. Downing-USA TODAY Sports
2nd Round
Game #1:
(No. 1) Josh Green vs. (No. 4) Precious Achiuwa
So we've arrived at the second round of the competition and the first entry, no surprise, is the No. 1 seed Josh Green. And of course, he would face No. 4 Precious Achiuwa after a "no-upsets" first round— but oh, the second round is ready to produce some surprises.
This is a tough game. The distance in seeding doesn't do justice to the difference in quality between these two.
Yes, Josh may be ranked a little higher than Precious, but for this brain-flexing exercise of pure imagination, I'm seeing Achiuwa advancing here and taking home the win over Green, thus reaching the coveted final.
Not every year you get an international talent as good as Josh Green, and the exotic Australian flavor may lead you to pick him. But thing is, I have an ace up my sleeve. Achiuwa came to the USA from Nigeria himself. I can only marvel at the sight of Precious reaching the same heights of a fellow Nigerian by the name of Hakeem. Talk about a "Dream".
Winner: (No. 4) Precious Achiuwa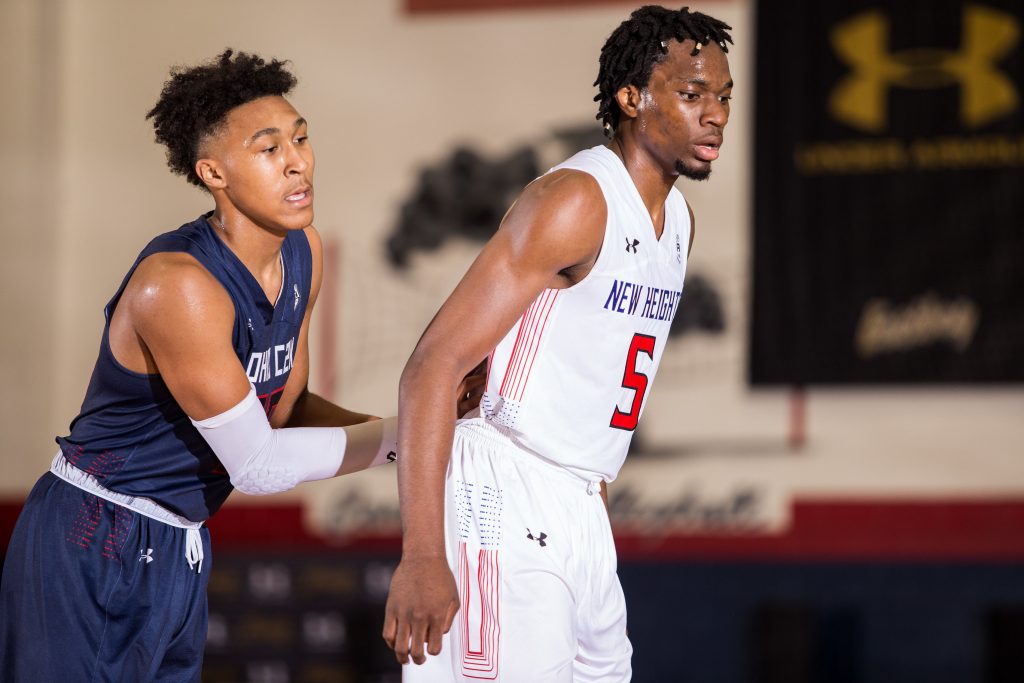 Photo: Kelly Kline/Under Armour
Game #2:
(No. 6) Scottie Lewis vs. (No. 2) Matthew Hurt
This is where the fun is. This is where battles really happen. When you pit a favorite (No. 2 Hurt, no upset) against an underdog (No. 6 Lewis, upsetting No. 3 Whitney), bad blood is about to appear on the scene.
Having reached the second round after beating Kahlil Whitney, Scottie would be determined to beat Matthew Hurt. Hurt himself had it tough against Robinson-Earl, but as the No. 2 seed himself— he wouldn't make things easy for Lewis.
The problem here is that Scottie Lewis is a problem to deal with on average, let alone if he comes with a chip on his shoulder and as the lower seed. While Hurt would get his buckets and put on a good performance, Lewis would light up the place up and dunk his way to the championship with passion and ferocity.
Scottie Lewis gets the win and advances to the championship.
Winner: (No. 6) Scottie Lewis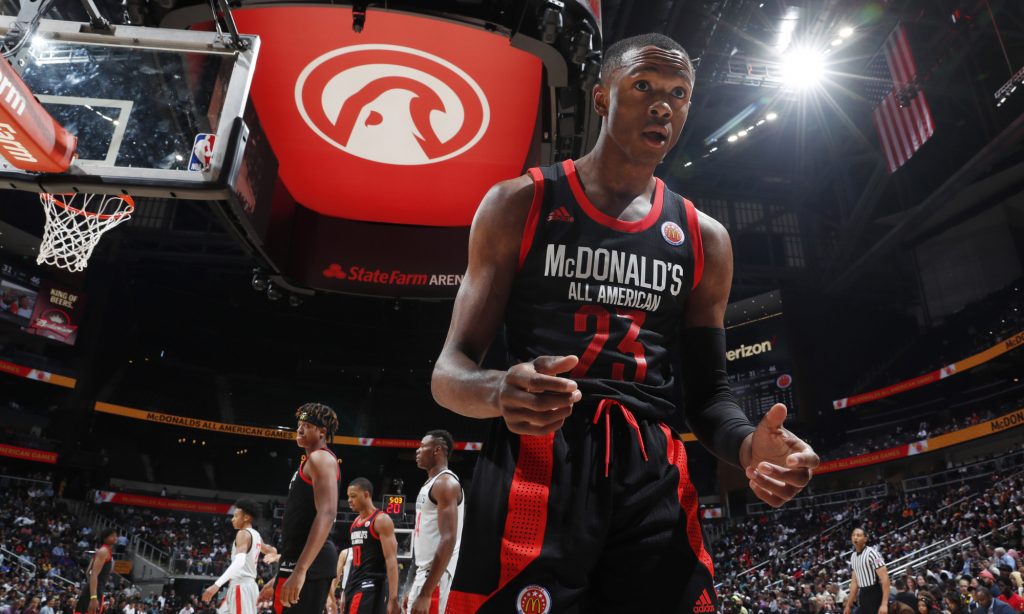 Photo: Brian Spurlock-USA TODAY Sports
Championship
(No. 4) Precious Achiuwa vs. (No. 6) Scottie Lewis
Upset alert! I love this final.
Achiuwa was able to reach the championship by dealing with the No. 1 seed. Lewis did the unthinkable by beating both the No. 3 and the No. 2 players. So, although Lewis presents himself with the lower ranking in this matchup, he comes in boasting the better portfolio of wins on his way to the title.
Still, turns out highlights aren't going to get Scottie Lewis to the promised land this time around.
In a high-flying, uber-entertaining game, Scottie would again bring his bounce to the table and try to overpower Achiuwa. Precious will rely on his bigger frame though, and match Lewis's prowess ounce by ounce, ultimately outlasting him.
Winner: (No. 4) Precious Achiuwa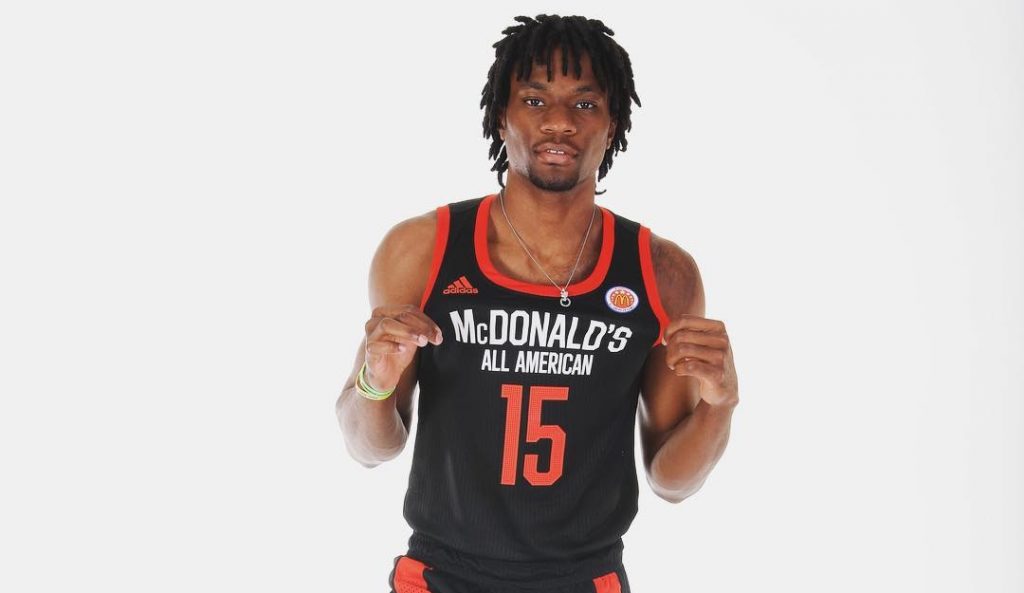 Photo: Brian Spurlock-USA TODAY Sports
In a much different way to how the guards' bracket panned out, the forwards brought more upsets than one may have expected.
And with that, the group of big-men are waiting on the sidelines to take our courts. And they're 1-v-1 tournament has all the potential to shatter all expectations.
Keep an eye on Part 3, because the competition is only getting tougher.
Antonio Losada is a contributor for Mars Reel from Spain. You can follow him: @chapulana