The third installment of our national one-on-one tournaments is finally here, and it brings size. As a quick refresher for those that read Part 1 and Part 2, or the people reading only this entry without having peeked at the other two. Here's How This Works:
The idea behind these fantasy tournaments is to put the best high school seniors together in a set of one-on-one competitions. For that, I picked the nation's top players as ranked by USA Today's Chosen 25, thus getting eight guards, eight wings and eight big-men. Their seeds and bracket entries, and therefore the matchups, were determined by that same Chosen 25 order of appearance of each kid in the list.
With the brackets of the guards and wings already filled out with two kings crowned, it's time to do justice to the bigs and let them battle for the gold. Brace yourself, because this is going to be a tough out:
1. Isaiah Stewart
2. Vernon Carey Jr.
3. James Wiseman
4. Jaden McDaniels
5. Armando Bacot Jr.
6. Trayce Jackson-Davis
7. Onyeka Okongwu
8. Isaiah Mobley
This is just my personal take on what might happen. So if your predictions don't align with mine, tell me why. Join the conversation.
1st Round
Game #1:
(No. 1) Isaiah Stewart vs. (No. 8) Isaiah Mobley
What a better way to start than with the "Battle of Isaiahs."
A much deserved No. 1 seed goes to Isaiah Stewart from La Lumiere School. Stewart enters the competition as one of the best prospects in the nation. Was it not for the presence of the highly-skilled and flashy Cole Anthony and Anthony Edwards in the class, he could have claimed the No. 1 overall spot.
This kid is a walking double-double, exploits the inside zone as good as anyone, comes with an already built frame to deal with next-level bodies and his hands seem like they can't miss a rebound.
In a field with some variety, Stewart may lack the outside game of some of his competitors— but he's so good inside and has such upside on defense that it's impossible to drag him down for that.
In a matchup against Stweart, Isaiah Mobley would be the clear underdog yet a pretty capable one to pull off the upset.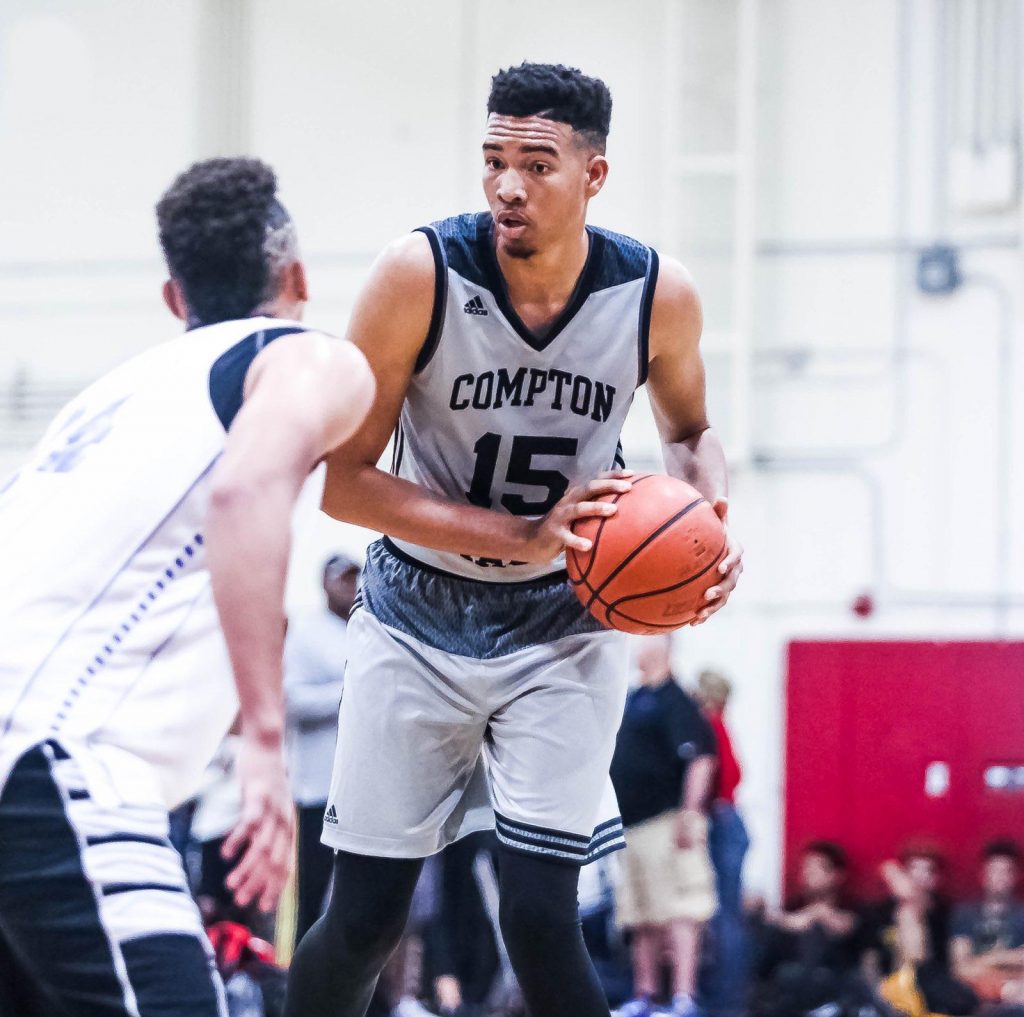 Photo: Dreamers Athletics
There is a lot of potential to be unlocked here that is still to be rounded and polished, but the foundation is in place. Although he, like Stewart, operates mostly inside, his game feels completely different, lacks some power which—would undo him in this one-on-one competition.
Mobley compensates with a tremendous effort, always giving it his all, and showing flashes of good anticipation and defensive moves to block shots here and there. At this point in their careers, though, Stewart would be a little too much to handle.
Winner: (No. 1) Isaiah Stewart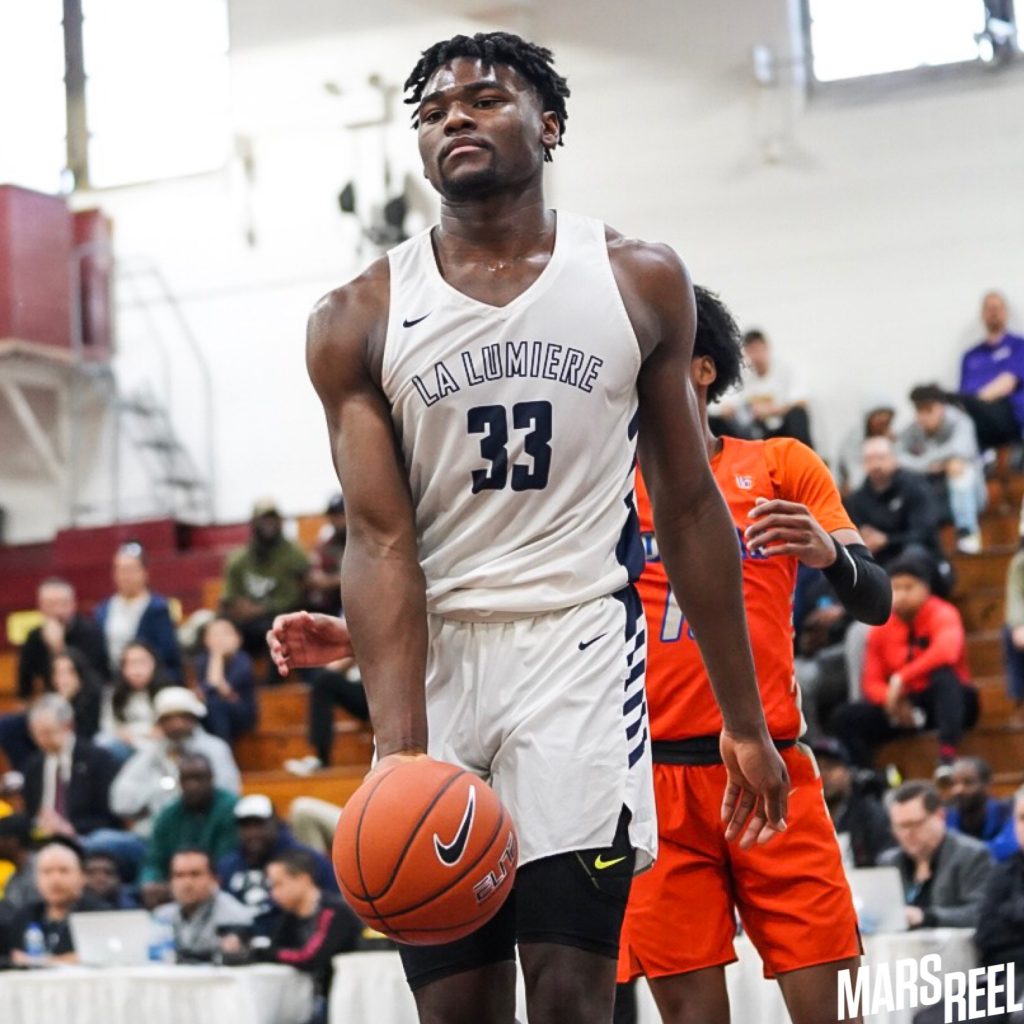 Game #2:
(No. 4) Jaden McDaniels vs. (No. 5) Armando Bacot
If you came looking for a unique player, you just found him. Jaden is probably the most unicorn-ish of the 2019 bigs and at 6-foot-11 his combination of size and abilities makes for one-of-a-kind hooper. Be it a dunk, a floater, a pull-up or an off-the-dribble shot, he can make them all.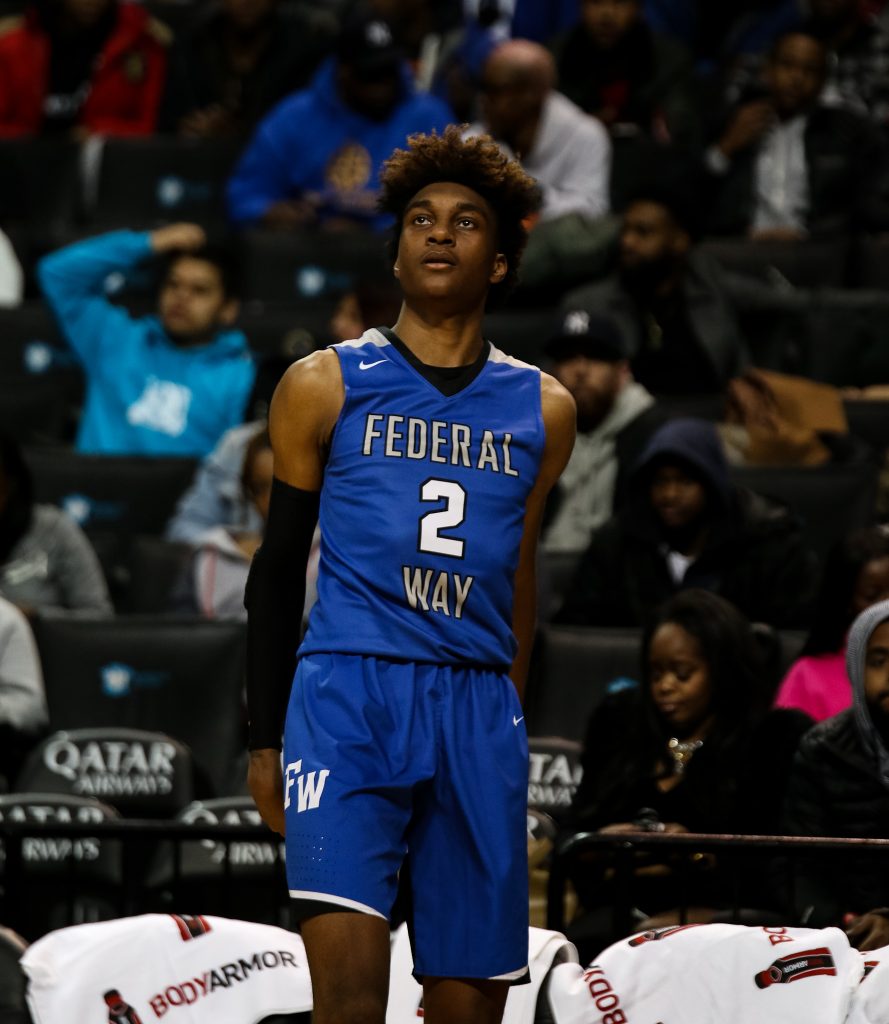 Photo: Brandon Hill, B.Hill Photography
McDaniels is as tall as anyone in the bracket, his wingspan would terrify the biggest of his rivals and his slender frame gives him the chance to outpace and out-skill those covering him, leaving them in the dust on his way to the rim. Though he may not be as physical as other players at his position (supposing he plays the four or five ones) his shooting range makes up for it and gives him the advantage.
It's unfortunate to be drawn against someone like Jaden McDaniels, who might be an even better fit in the forwards bracket than the bigs one. But here is Armando Bacot Jr., the future Tar Heel.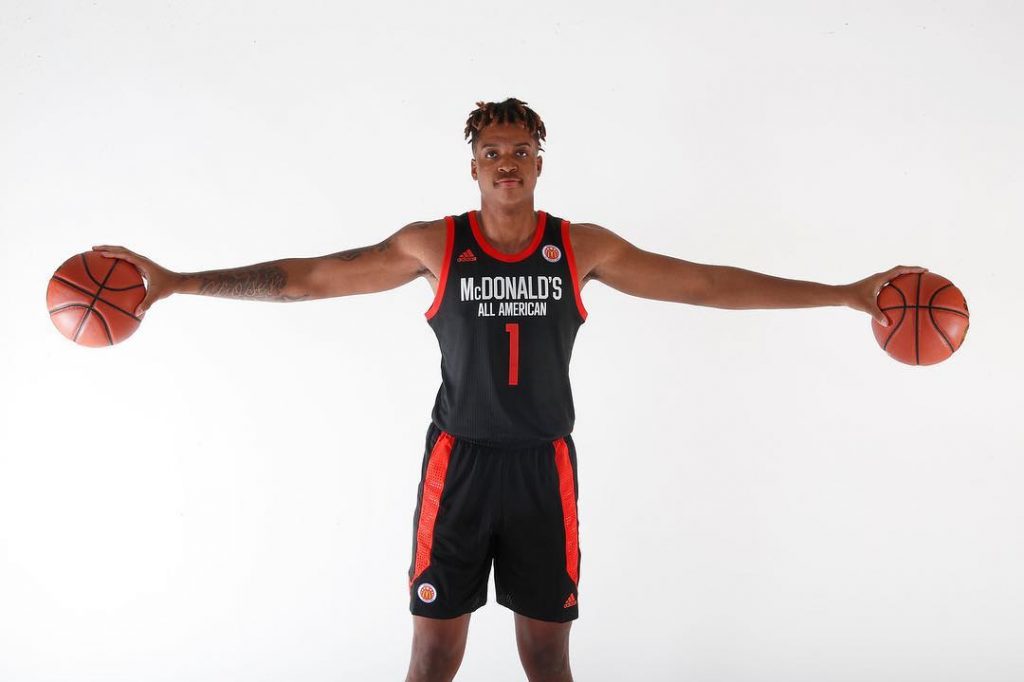 Photo: Brian Spurlock-USA TODAY Sports
I love Bacot. One of the reasons I appreciate Armando is because even while it looks like he's coasting through games and giving not much of an effort, I always find myself looking at his final stats in awe (and don't be fooled, because he goes hard).
More of a proto-center of yesteryear, he kills it inside and his defensive game is spot on, yet he'd suffer in this individual matchup against a much more versatile player as Jaden is.
Winner: (No. 4) Jaden McDaniels
Photo: Isaiah J. Downing-USA TODAY Sports
Game #3:
(No. 3) James Wiseman vs. (No. 6) Trayce Jackson-Davis
Put some sunglasses on because James Wiseman brings the shiny gold. This has been the year of Wiseman, and with reason. He was named a McDonald's All-American, Tennessee Mr. Basketball and the National POY just a few days ago. You can expect a 7-footer to dominate at this level, but to show 20-20 buckets-boards potential on almost every game during his senior season in Memphis East is just ridiculous. He could step into an NBA court and no one would think he's out of place.
I've always said it, and I keep preaching it: Any kid who's good on offense, but who mostly excels on the defensive side of the game in HS is going to become a great deal. James Wiseman fits the bill to perfection. Not only can he score in any way you can think all, even stretching the field to pull up from three, but he can also snatch rebounds and swat shots on demand.
In a class without a clear prodigy, there is no wonder James could be the top-dog going further in the careers of all in the field. Of course, more than enough to advance to the second round.
Not without a fight, though. Trayce Jackson-Davis, as the aforementioned Jaden McDaniels, enters the competition as another Swiss army knife.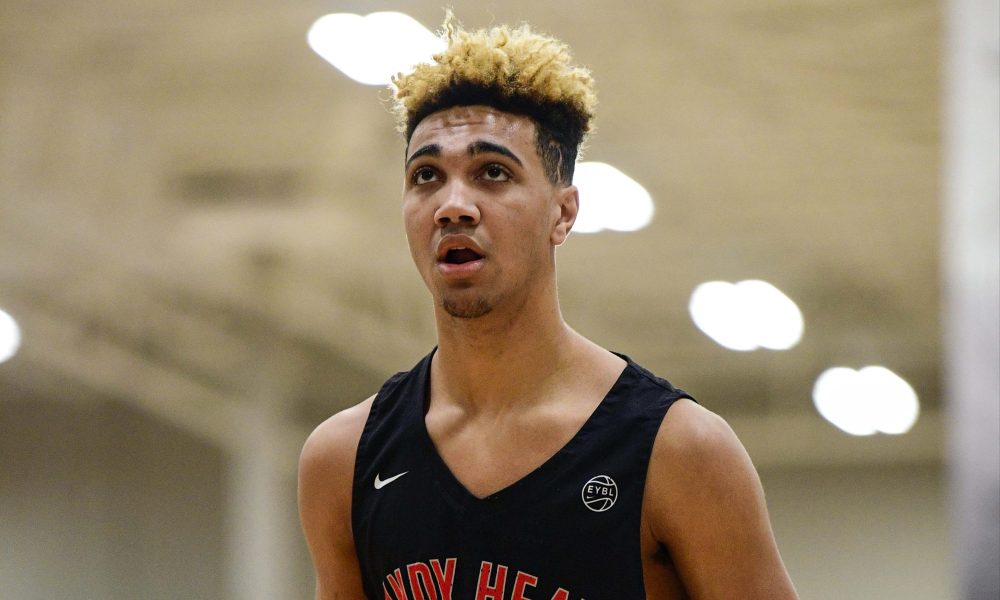 Photo: Marc Lebryk, USA TODAY Sports
With a frame more akin to that of a forward rather than a classic center, he takes advantage of his build to exploit his speed and agility and blow past defenders to finish inside easily. His wingspan also makes him able to block shots in transition coming from behind, and it seems like he never runs out of fuel going up and down the court.
Jackson-Davis has dominated opposition during his senior season and will be a game-changer on the next level from day one. Facing Wiseman and beating him would be a tall order, though, and not because of lack of skill, but because of Wiseman's refined and otherworldly game.
Winner: (No. 3) James Wiseman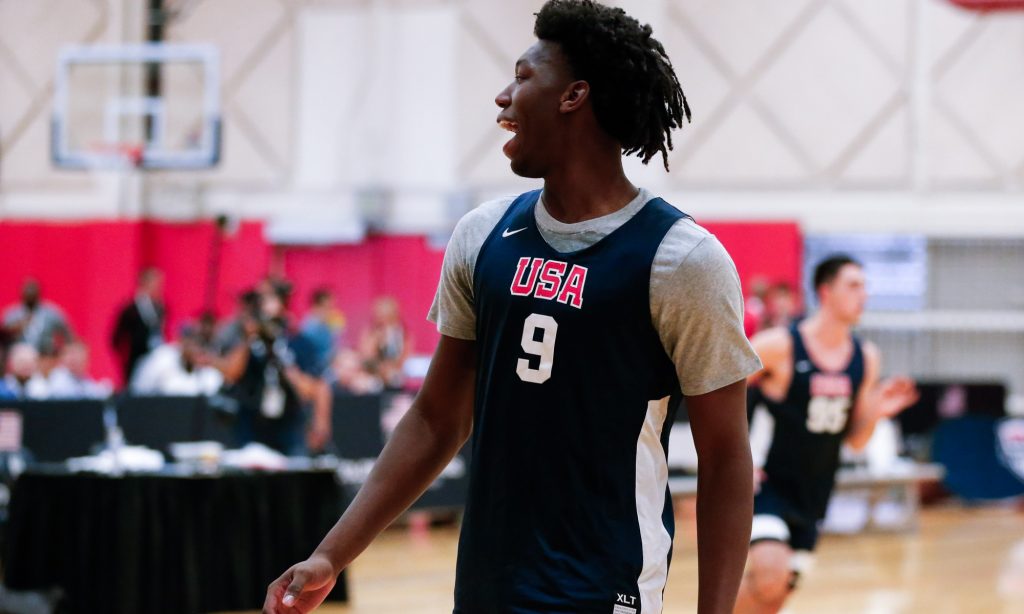 Photo: Isaiah J. Downing, USA TODAY Sports
Game #4:
(No. 2) Vernon Carey Jr vs. (No. 7) Onuyeka Okongwu
Vernon Carey Jr can be defined as a walking muscle shaped like a mountain which happens to be driving a monster truck all the way down the court.
The general population was introduced to Carey at last year's GEICO Nationals. Fast-forward to the present, and where Carey was already a bully in his own right— he's become even more ripped, trimmed and refined physically, to my eyes at least. It's not that he just pounds rivals off sheer height and weight, it's that he outmuscles and dominates them. If there is a prospect best shaped in the old center mold, Carey is the one.
He can shoot from mid-range areas and has even gone out the three-point line at times, but right now his game is all about the inside and finishing strong around or at the rim. He comes packed. He can rebound and bully anyone in front of him.
The leading face of the post-BBB Chino Hills, Onyeka Okongwu is no joke even entering the competition with the second-lowest seed. More suited to today's game traits, he's got the body to defend multiple positions and play different roles on offense and he has a shooting prowess that makes him a bucket from all three levels through-and-through.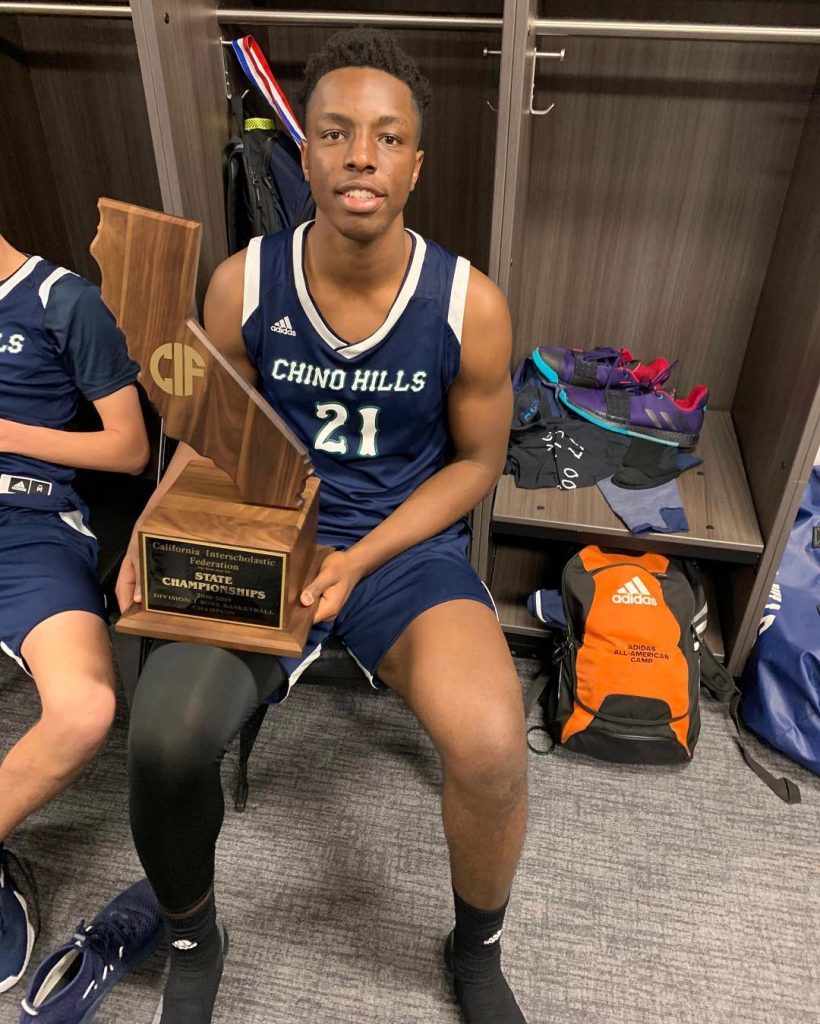 Photo: Onyeka Okongwu IG (@big0._)
Okongwu should be happy that one of the knocks on him at this point is that he has yet to realize most of his potential, and being considered a little raw.
When that's the one thing dragging you down, well, let's say you're on the right path. His defense is already on point and his upside can't look better, but right now Carey would get the win in this first round matchup.
Winner: (No. 2) Vernon Carey Jr.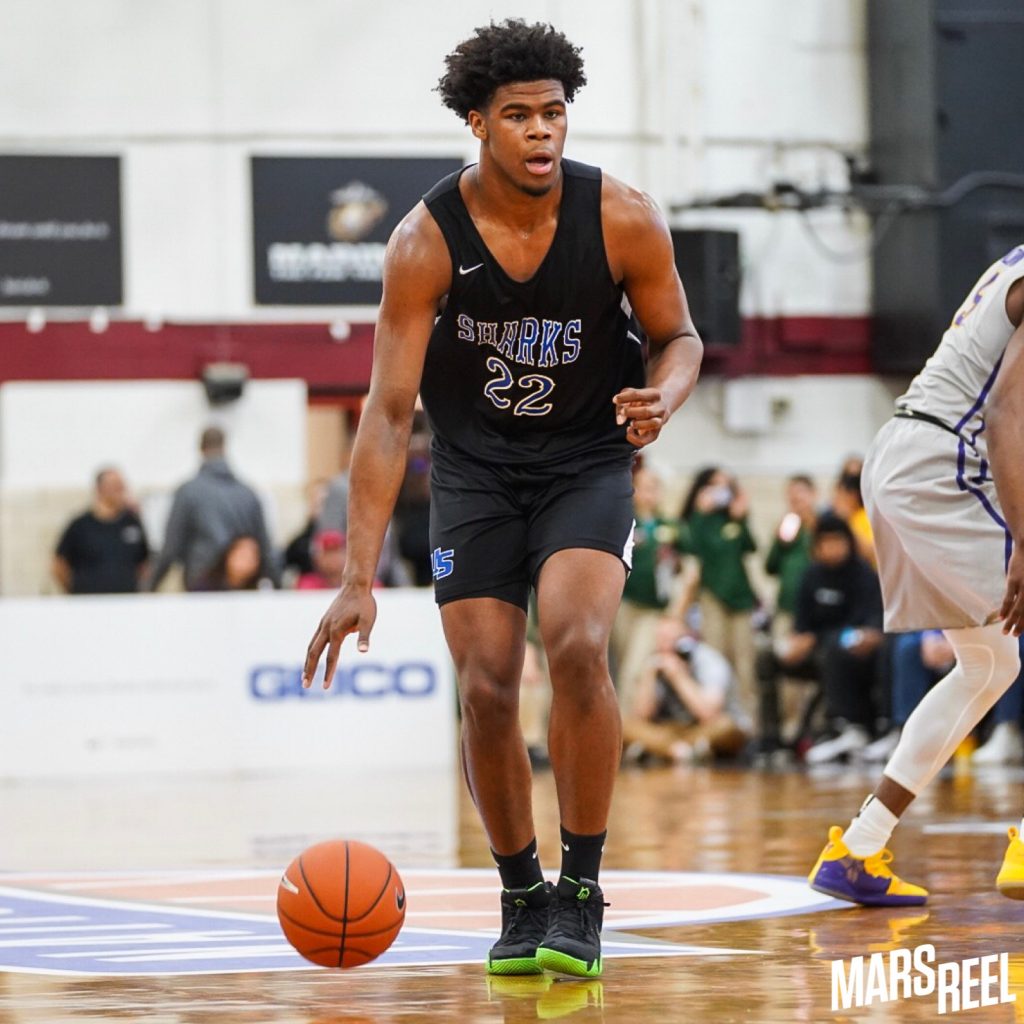 2nd Round
Game #1:
(No. 1) Isaiah Stewart vs. (No. 4) Jaden McDaniels
Such is the quality of the four-best bigs that we have reached the second round without a single upset in place.
I have already introduced you to Isaiah Stewart. but I may have left you a little bit cold. So, let me go for a little more just in case you're not convinced about him yet. There are good players, and then there are production-factories. There are leaders, and then there is Isaiah. At 18 points and 11 boards per, it is hard to argue about the kid, isn't it? Oh, and as the head-hooper at La Lumiere, his squad racked up a perfect regular season and got all the way to title game at GEICO Nationals… Maybe we have a winner.
One of the problems I see in this one-on-one that would affect Jaden is how he's built. He's as thin as you can imagine, and although I've already said that makes good for him while exploiting some areas of the game, it also can make him suffer against strongest bodies such as Isaiah.
Having already defeated Armando Bacot to reach this second round, Stewart would ultimately be a much tougher riddle to overcome and in another not-surprising matchup, the highest seed will outpower McDaniels to make it to the championship game.
Winner: (No. 1) Isaiah Stewart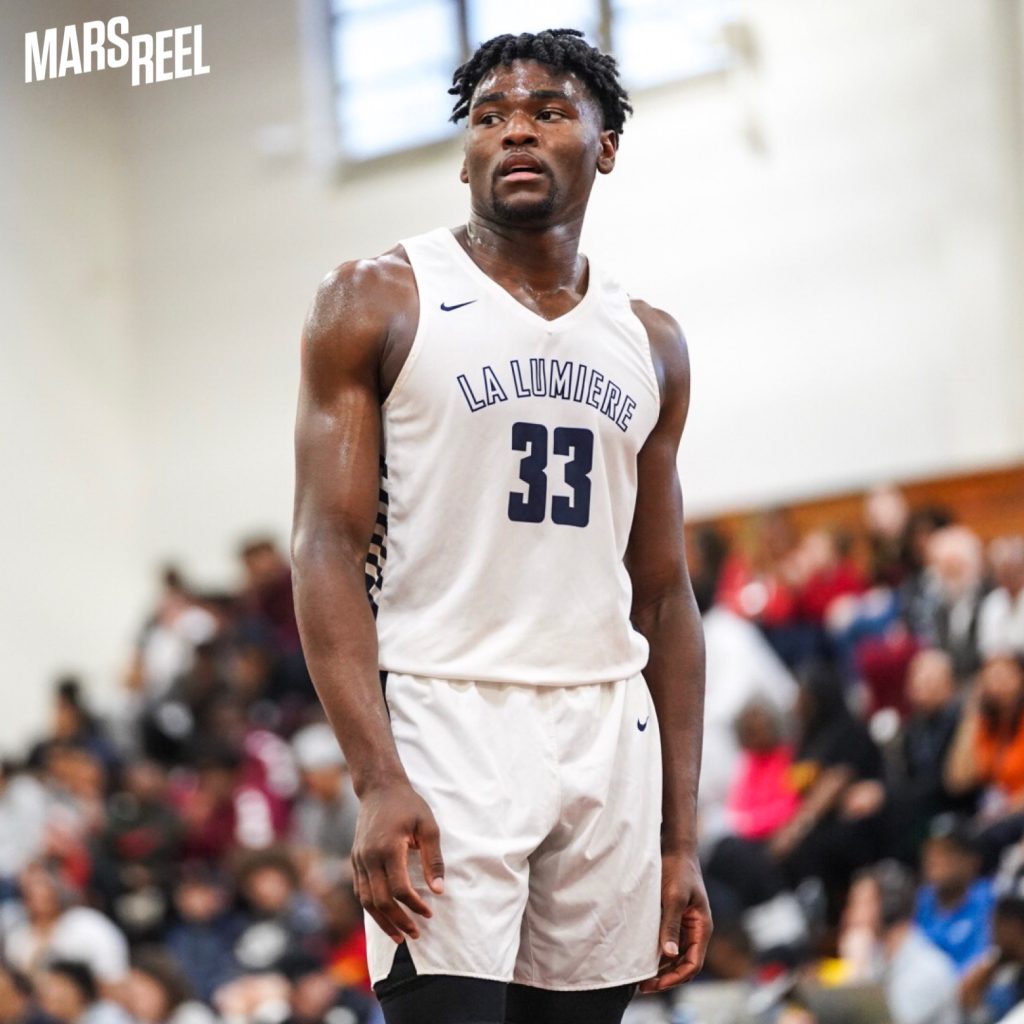 Game #2:
(No. 3) James Wiseman vs. (No. 2) Vernon Carey Jr.
Barring the clash between Cole Anthony and Anthony Edwards in the guards' tournament, this can easily be highlighted as the top game of the whole 3-part series.
This game is the like: If the Monstars truly came to earth, a well-versed committee put every one of them on a list and picked the two best players between those available, and made them compete in a one-on-one with the loser being kicked back to his planet without basketball powers anymore.
You can take whoever you like here, and I'd be fine with it— both of these guys look like superheroes to me.
But if we are seriously analyzing this matchup and trying to pick a true winner, the one with most chances to advance, I'll lean towards James Wiseman. It's a tough decision, but I think he's got enough power to match Vernon's bully ball, and is more versatile than the latter, thus getting the slight advantage.
I'll take Wiseman to advance to the final.
Winner: (No. 3) James Wiseman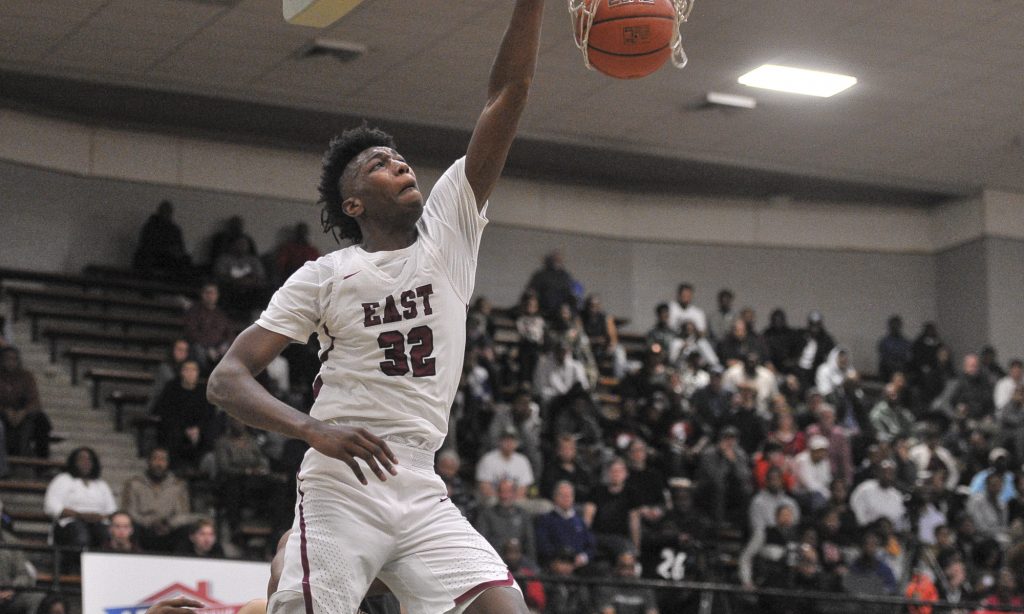 Photo: Justin Ford-USA TODAY Sports
Championship
(No. 1) Isaiah Stewart vs. (No. 3) James Wiseman
Finally, we got an upset!
In the final championship game of our 3-part series, James Wiseman will become the king of the bigs by ousting Stewart, achieving the feat of becoming the only player able to claim the gold by beating a higher-seeded guy.
If we are honest, the scenario fits the characters.
While Isaiah Stewart is regarded as one of the best prospects of the class and could make a perfect case for that coveted No. 1 and first selection in the eventual 2020 NBA draft, James Wiseman comes out winning because of one thing—defense.
Wiseman has focused on the defensive side of the ball during his whole senior year. He has put less attention and effort on offense than he has on defense, yet he has still been able to average 25 points easily. Add 15 boards and 5 blocks per game and you get a working (talk about a motor) humble guy that can only improve on offense and is already a defensive machine.
Let Stewart polish his offensive game over his college stint next season and replay this game and we may have another outcome. Now, though, it'd be Wiseman who lifted the trophy at the end of the day.
Winner: (No. 3) James Wiseman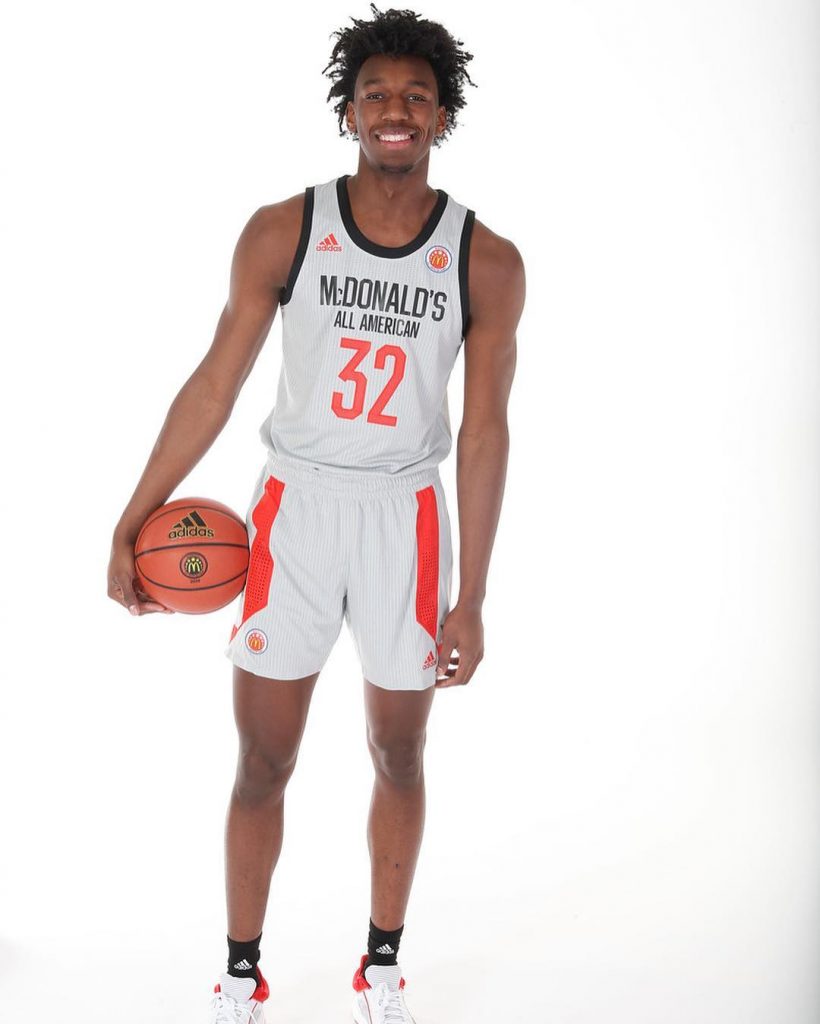 Photo: Brian Spurlock-USA TODAY Sports
There you have it, your class of 2019 3-on-3 team has just been named and it can't be argued that it features the best of the best, cream of the crop players around the nation. For a class deemed as lacking quality, let me tell you this is some team right here.
With Cole Anthony at the point, Precious Achiwa waiting on the wings, and James Wiseman anchoring the center, I doubt many three-man squads would be able to defeat this one.
And keep in mind these careers are just starting. Quite a bright future lies ahead, so let's embrace it.
Antonio Losada is a contributor for Mars Reel from Spain. You can follow him: @chapulana
Check out the other two parts to this series:
High School 1-v-1 Tournament: Guards Edition